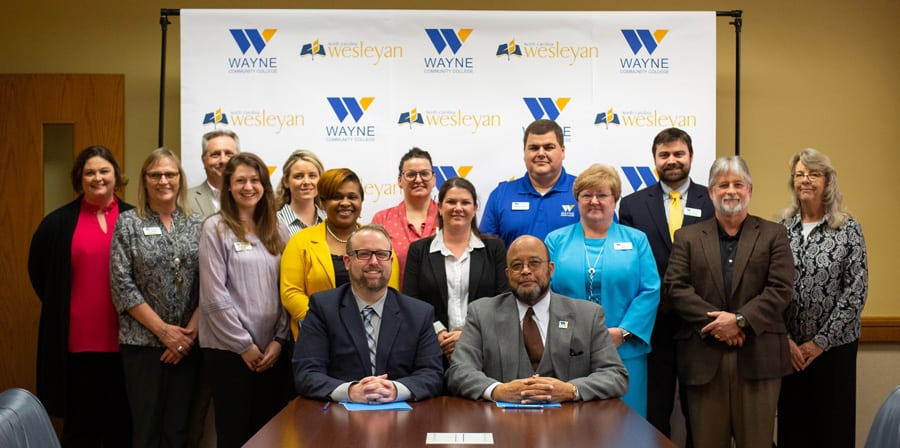 GOLDSBORO, NC – Wayne Community College and North Carolina Wesleyan University have renewed their commitment to seamless transfer between the two schools.
Dr. Thomas A. Walker Jr., president of WCC, and Dr. Evan D. Duff, interim president of NC Wesleyan, signed an agreement for "Wesleyan Works," a transfer program for community college students who plan to continue their education at NC Wesleyan.
Students who participate in Wesleyan Works are guaranteed acceptance into NC Wesleyan once they earn an Associate in Arts, Associate in Science, or other Associate in Applied Science degree from WCC and their WCC courses will transfer seamlessly into comparable bachelor's degree programs at NCWC.
While they are enrolled in WCC, Wesleyan Works participants will have access to academic advising and financial aid counseling from both institutions and can attend events on both the WCC campus and the NCWC main campus in Rocky Mount.
"My first objective when I came to Wesleyan was to build partnerships to provide access to a bachelor's degree to as many NC community college graduates as possible," said Dr. Duff. "My goal is to be the best transfer partner."
Dr. Walker agreed that such alliances enhance WCC's programs by providing smooth transitions into further educational opportunities. "This program sets up our students to not only succeed here but also when they get to NC Wesleyan," said Dr. Walker. "We are constantly striving to improve the path that takes our students to advanced educational options and better stations in life."
Officials at both colleges view the agreement as a win-win situation for the schools and their respective students. The ability to pursue a four-year degree upon completion of an associate degree is attractive to WCC students and NC Wesleyan has the opportunity to grow its enrollment with a pool of students who have proven that they have the academic skills to succeed in an institution of higher education.
For more information, potential participants can contact Kacee Ingram, director of the WCC College Transfer Advising Center, at 919-739-6755 or klingram@waynecc.edu.
About Wayne Community College
Wayne Community College is a public, learning-centered institution with an open-door admission policy located in Goldsboro, N.C. As it works to develop a highly skilled and competitive workforce, the college serves 11,000 individuals annually as well as businesses, industry, and community organizations with high quality, affordable, accessible learning opportunities, including more than 140 college credit programs. WCC's mission is to meet the educational, training, and cultural needs of the communities it serves.