ROCKY MOUNT, NORTH CAROLINA – To continue providing a safe, innovative and unique learning environment for its students, North Carolina Wesleyan University recently received a $50,000 cash gift to construct what will be known as the Marvin and Cynthia Barnes – Family Fare Convenience Stores Outdoor Classroom.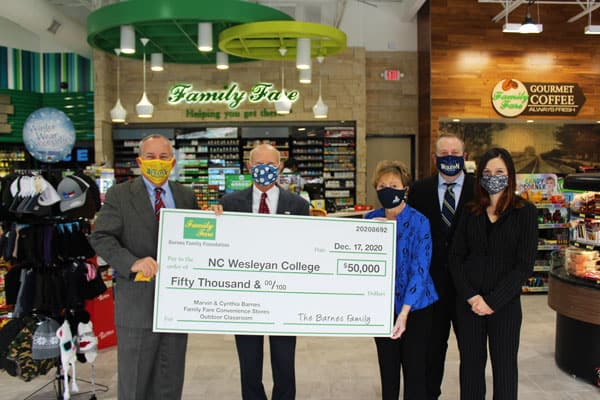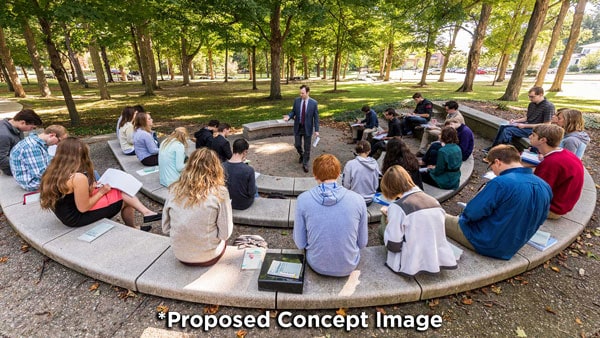 "We are grateful for the Marvin and Cynthia Barnes Family Fare Convenience Stores Outdoor Classroom, as this gift will enhance NC Wesleyan's opportunity to provide unique learning spaces for our students," stated Elena Koutouzos, Director of Alumni & Donor Relations.
The new outdoor classroom will be located at the front of campus near the Braswell Administration building. It will offer students a fun, safe, educational experience which will expand their perspective outside the walls of a normal class setting. The outdoor classroom will consist of a 20 to 25-seat amphitheater.
"Wesleyan thrives, and is extremely grateful for, the relationship we have with our community partners. The generosity of the Barnes family and Family Fare Convenience Stores will have a positive impact on our students as they utilize this outdoor classroom for learning, student group meetings and small musical presentations," noted President Dr. Evan D. Duff.
Marvin Barnes, a Rocky Mount native and his wife Cynthia, have been active in the North Carolina Methodist Church Conference for over half a century. Mr. Barnes grew up attending First United Methodist Church in downtown Rocky Mount, where he actively participated in all forms of worship.
"Cynthia and I are excited to give back to an educational purpose in my hometown just down the road from our first Rocky Mount store and where I worked as a boy and young adult," stated Barnes. "It's a real pleasure to come back and see all the positive changes, and especially witness the impact Wesleyan is making on the region. My father always instilled in me an eagerness to learn. By providing a unique space for learning at Wesleyan, I know that this legacy will be maintained in one of my favorite places."
A new Family Fare Convenience Store was recently opened near North Carolina Wesleyan's campus at the corner of Wesleyan Boulevard and Airport Road.
About North Carolina Wesleyan University
North Carolina Wesleyan University, a private institution affiliated with the United Methodist Church, prepares students for professional advancement, life-long learning and responsible participation in their communities. NC Wesleyan University provides a highly personalized education in a dynamic and challenging environment. With students from all over the United States and more than 40 different countries, NC Wesleyan is a small college with a big taste for cultural diversity. To learn more, visit ncwu.edu and follow on Facebook, Twitter, LinkedIn and Instagram.
About Family Fare Convenience Stores
Family Fare Convenience Stores is headquartered in Durham and has over 100 locations throughout North Carolina and Virginia.