College Seeks Donors for Multi-Phased Approach
ROCKY MOUNT, NORTH CAROLINA – North Carolina Wesleyan University recently secured donor funds to kick off their Stadium Campaign. These funds will go toward the development of a new turf field with lights on the south side of campus. This project is just one part of the University's long-term vision.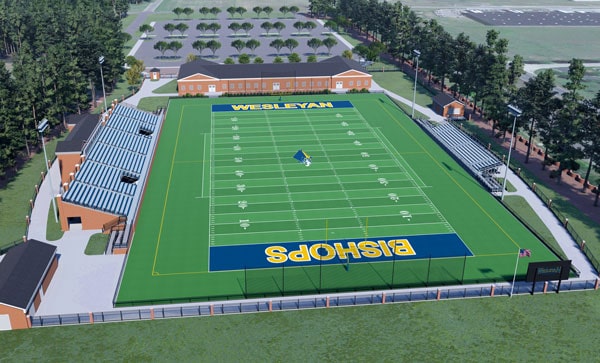 The new Stadium consists of a turf field, lighting, additional parking, fencing, permanent seating, scoreboards, a press box and a new fieldhouse. While the initiative will support Athletics, it will also benefit the University academically. In the past, athletes have had to miss afternoon classes to travel and practice prior to sundown. A new turf field and lighting will allow student-athletes to practice and play games later in the evenings. The new fieldhouse will contain a training room, weight room, classrooms, meeting space and offices. 
"In the spring of 2020, two major donors committed almost $2,000,000 to establish a multi-phase, multi-year project that will be known as the Vernon T. Bradley, Jr. Stadium. Future phases will include a field house that is yet to be named, as well as other infrastructure you would expect to find at a college stadium," stated President Dr. Evan D. Duff. "This project will not only change the landscape of the University but also the athletic and academic opportunities we can provide our students."
The Stadium Campaign will be completely donor-funded and consist of four project phases, as funding allows. The University is actively seeking donors in hopes of raising $700,000 to complete Phase One and to unlock an additional $850,000 pledge from Vernon T. Bradley, Jr. for Phase Two. Phase One will include the turf field, lighting and additional parking. 
The University is planning future fundraising events for those who have a love for the game of football and Wesleyan. These events will be held in spring and summer of 2021 with specific dates to be announced soon based on state guidelines. These exclusive events will unfold the vision of the new stadium, give participants first access to the future of North Carolina Wesleyan University and invite them to be a philanthropic part of this project.