ROCKY MOUNT, NORTH CAROLINA – Over the last several months, The Dunn Center at North Carolina Wesleyan University has been the recipient of multiple grants that will allow for the renovation of various spaces in the facility. The Dunn Center was initially opened in 1996, with many of the spaces still in their original form.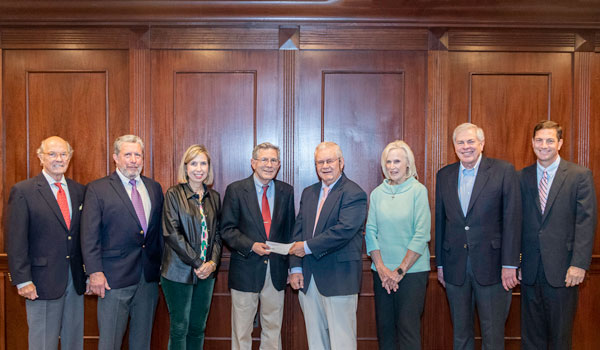 The DeLeon Carter Foundation has donated $14,000 for the renovation of the Sweatt Courtyard, located adjacent to the Carlton Board Room. This will permit The Dunn Center to purchase new outdoor furnishings, heaters, art, lighting and an awning for the space. The DeLeon Carter Foundation was established by the late Myrtle Carter Henry in memory of her father, DeLeon Carter, for educational and scientific projects in Nash County. Since it began making grants in 1997, the DeLeon Carter Foundation has given approximately $900,000 in much-needed grants.
Additionally, The Honorable Phil Carlton has pledged $35,000 for the full redesign of the Carlton Board Room, which is named after him. Local interior designer, Leslie Bauer, has donated her time to assist with renovation. This will include paint, lighting, drapery, art, cabinetry, refinished tables and lamps.
"A Board of Trustees member, Thomas A. Betts, Jr., made the presentation to the Carter and Carlton Foundations that led to these awards. In 2022, he secured $30,200 from The Mims Foundation to renovate the Mims Art Gallery. That particular renovation is near completion with a formal reopening planned for early spring," stated Greg Purcell, Art Curator.
These spaces are also available to the public to rent for board meetings, company gatherings, holiday parties and more. For additional information, visit ncwu.edu/event-venue-rentals.
About North Carolina Wesleyan University
North Carolina Wesleyan University (NCWU) is a small, private Methodist-affiliated institution with a liberal arts-based core curriculum that prepares students for professional advancement, life-long learning and responsible participation in their communities. NCWU offers liberal arts, professional and graduate degree programs for traditional, transfer and working-adult students. The skills cultivated by faculty and built into the curriculum include critical thinking and reflection, communication, collaboration, and information technology. North Carolina Wesleyan University delivers education that is personal, practical and purpose-driven. Personal…through mentoring and the connections that are provided. Practical…by helping students develop lifelong skills. Purpose-driven…by helping them fulfill their purpose in life. With students from all over the United States and more than 40 different countries, the University has immense cultural diversity. To learn more, visit ncwu.edu and follow on Facebook, Twitter, LinkedIn, TikTok and Instagram.