NC Senator Lisa Barnes and NC Representative Allen Chesser secured funding with the newly approved state budget for North Carolina Wesleyan University's BSN Pre-Licensure program. On Monday evening, November 27, they visited the University's campus to highlight this achievement with a $350,000 check presentation.
Senator Barnes endorsed the initiative, stating, "I fully support Wesleyan's efforts to expand the BSN program, creating a pipeline for more nursing students to pursue their educational goals while providing well qualified healthcare staff to offset the shortages. It's a win-win opportunity for our area."
"Ensuring our community has access to high-quality healthcare workers will have positive impacts on the well-being of residents, as well as expanding access to quality local healthcare and creating local job opportunities," said Representative Allen Chesser. "I am proud of the work Senator Barnes and I have been able to accomplish; to ensure valuable community partners such as NCWU so they can continue their great work for Nash County and our surrounding area."
Both Representative Chesser and Senator Barnes are active in the districts they serve, which includes Nash County. They understand the positive impact a BSN Pre-Licensure will have on our community and they fully appreciate the significance North Carolina Wesleyan University has on our region.
NC Wesleyan currently offers a Post-Licensure Bachelor of Science in Nursing through their online RN to BSN program, allowing a pathway for registered nurses with an associate degree to advance their professional role in the healthcare system. With this additional funding, the University will now be able to expand their offerings to include a Bachelor's Degree in Nursing (BSN) Pre-Licensure program. This will provide nursing students with the clinical skills necessary to deliver safe, evidence-based quality care, earn a bachelor's degree in nursing and sit for the NCLEX exam.
"The nursing faculty and I are are extremely grateful for the monetary contribution that NC Senator Lisa Barnes and NC Representative Allen Chesser have secured for NCWU's prelicensure nursing program, as well as their support for nursing in our community. As the healthcare system continues to evolve and become more complex, it is imperative that we provide educational opportunities for students in our community and surrounding areas to enter the nursing profession and provide high-quality care to the residents in the rural communities that we serve. We look forward to growing the nursing program at NCWU and offering the prelicensure BSN option to our students," stated Dr. Crystal Ostheim.
President Duff also acknowledged, "Dr. Dan and Brenda Crocker have also pledged $100,000 to our BSN Licensure program. As a retired physician from our community, Dr. Crocker understands the value and importance of having qualified nurses in our healthcare system. We are extremely grateful for this donation and their unwavering support of NC Wesleyan."
Those in attendance included: Dr. Joe Lane, NCWU Provost & Senior Vice President for Academic Affairs; Dan Bell, NCWU Board Member; Roger G. Taylor '70, NCWU Board Member; Terri Sharpe, NCWU Board Member; Paul A. Bauer '86, Chairman of the NCWU Board of Trustees; Allen Chesser '19, NC Representative; Cindy Edwards, NCWU Senior Executive of Operations; Lisa Barnes, NC Senator; Mark Hinson, NCWU Senior Executive of Philanthropic Engagement; Dr. Evan D. Duff, NCWU President; Suzanne Brackett '87, NCWU Senior Vice President of Administration; Thomas Winstead, NCWU Board Member; and Dr. Daniel L. Crocker, NCWU Board Member.
North Carolina Wesleyan University is introducing a new unique, accelerated program designed for students wishing to elevate their associate degree to a master's degree. Through this new pathway, students will have the opportunity to earn an Executive Leadership Certificate, Human Resources Management Certificate, bachelor's degree and a Master's in Strategic Leadership in approximately two and a half years.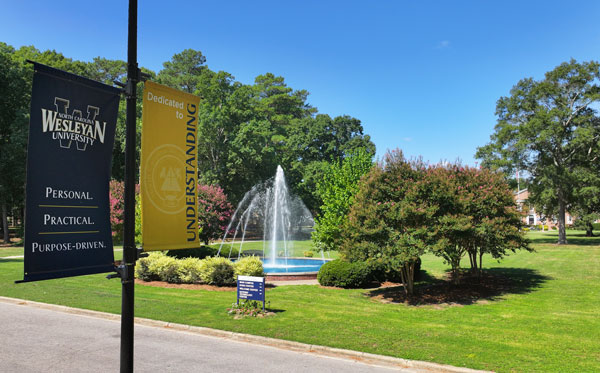 This degree option was designed with working adults in mind by offering 100% online classes. Students can earn certificates as they go with a focus on two classes per term. The University also offers career assistance, supportive advisors and faculty, and special tuition pricing for North Carolina community college graduates*. Students admitted into the Associate to Master's program must meet all undergraduate requirements, attain bachelor degree conferral and submit graduate admissions material before they begin the M.S. in Strategic Leadership program.
"NCWU remains on the cutting edge of programming to accelerate the educational attainment of working adults in our state. We have been a leader in alternative pathways for adults to complete their college degree for over 45 years," stated Dr. Evan D. Duff. "This is a one-of-a-kind program in North Carolina that allows community college graduates to fast track their learning while attaining multiple credentials along the way."
Upon completion of the Associate to Master's program, students will be qualified to attain the following industry certifications: SHRM Certified Professional (SHRM-CP) Certification, HRCI's Associate Professional in Human Resources (aPHR) Certification and the Strategy Planning Professional (SPP) Certification.
If you already have an associate degree, this is a great opportunity to advance your education in less time in order to gain a competitive advantage in the workforce. Apply today to gain new skills and earn multiple degrees at a top-ranked university, taking the first step towards accelerating your career! Those who are interested can learn more at ncwu.edu/associate-to-masters.
ROCKY MOUNT, NORTH CAROLINA – Dr. (h.c.) Constance Williams, Senior Vice President of Human Resources for the NFL, will be the next Resident Expert to offer her expertise to NCWU students. Through NC Wesleyan's new Resident Expert Program (WES-R.E.P.), students are provided with an opportunity to work directly with industry leaders through mentoring and workshops. These professionals connect with students to share their industry knowledge via on-site and virtual opportunities. Williams will join Dr. Katrina Sweet's Human Resources class (BUS 314) via Zoom on Friday, October 28 for a Q&A session that allows students the opportunity to learn about the HR field.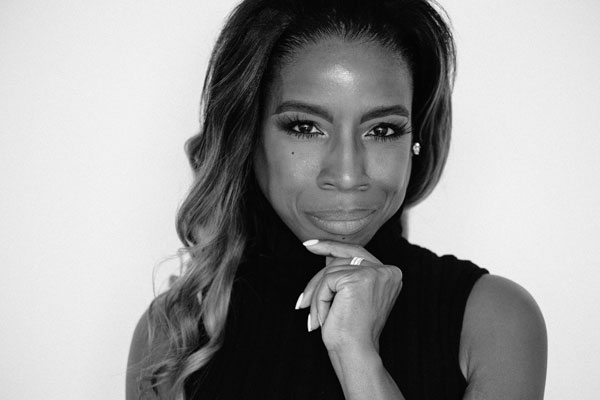 Williams is a seasoned executive with nearly 30 years of progressive human resource and business experience, having contributed to the success of several blue-chip firms in diversified industry sectors. Prior to her role with the NFL, she served as the Senior Vice President and Head of Human Resources, Americas, Sony Music Entertainment in New York, NY where she led Sony Music's talent acquisition and talent management functions. Her remarkable experience naturally lends itself to Dr. Constance Williams serving as NCWU's Human Resources Expert in Residence.
"Constance possesses a wealth of knowledge to convey about the world of human resources and organizational development, which she has obtained through her work with multiple top-tier corporations," stated President Dr. Evan D. Duff. "She is a strong advocate for Wesleyan and I'm very excited for our students to receive the wisdom she has to offer."
In support of Wesleyan students' future career exploration, Williams has provided rich developmental experiences including one-on-one mentorships, speaking engagements and comprehensive on-site job shadowing. She has been on the NCWU Board of Trustees since 2020. She was also a previous commencement speaker for the University and taught as an adjunct professor in Psychology, Business and Organizational Administration. A double Ivy League graduate, Dr. (h.c.) Williams holds an M.A. in Organization Psychology from Columbia University and a B.S. in Industrial and Labor Relations from Cornell University, as well as an honorary Doctorate of Fine Arts from North Carolina Wesleyan University. She also earned distinction having received Billboard Magazine's 2018 Women in Music Award.
About North Carolina Wesleyan University
North Carolina Wesleyan University (NCWU) is a small, private Methodist-affiliated institution with a liberal arts-based core curriculum that prepares students for professional advancement, life-long learning and responsible participation in their communities. NCWU offers liberal arts, professional and graduate degree programs for traditional, transfer and working-adult students. The skills cultivated by faculty and built into the curriculum include critical thinking and reflection, communication, collaboration, and information technology. North Carolina Wesleyan University delivers education that is personal, practical and purpose-driven. Personal…through mentoring and the connections that are provided. Practical…by helping students develop lifelong skills. Purpose-driven…by helping them fulfill their purpose in life. With students from all over the United States and more than 40 different countries, the University has immense cultural diversity. To learn more, visit ncwu.edu and follow on Facebook, Twitter, LinkedIn, TikTok and Instagram.