ROCKY MOUNT, NORTH CAROLINA – Dr. Dan Crocker, a retired local physician and Chairman of NC Wesleyan's Board of Trustees, has announced his plan to hand over the reins to Vice Chairman, Paul Bauer, after serving in the capacity since 2018. Mr. Bauer will begin his tenure as Board Chair on June 1 with Dr. Crocker remaining an active board member.
Mr. Bauer is no stranger to Wesleyan, as his father Dr. Raymond "Moe" Bauer, served NC Wesleyan for over 33 years in a variety of roles such as Head Baseball Coach, Director of Athletics and professor of both education and physical education. You may also recognize the name from NCWU's baseball facility, Bauer Field, dedicated in memory of his father in 2005.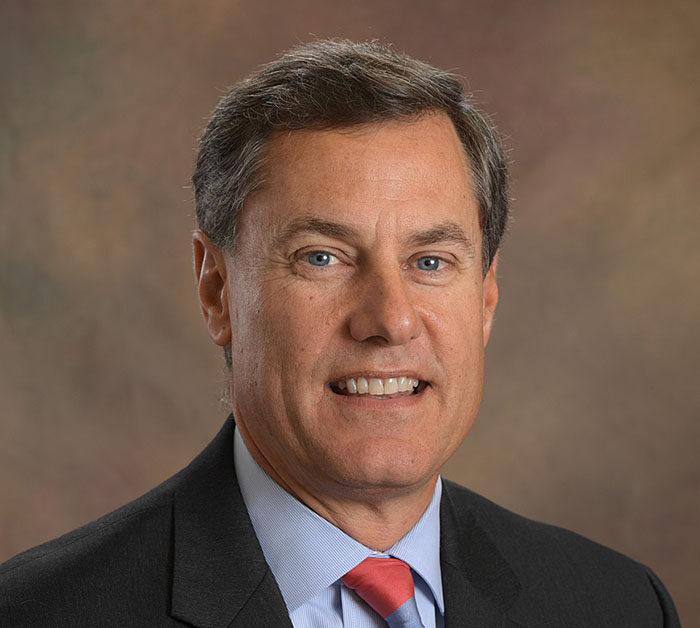 "I'm honored to have this opportunity to help lead the University in the coming years. Dr. Crocker has always led by example and paved the way for a successful transition," stated Bauer. "With the history that Wesleyan holds for me and my family, I'm excited to see my alma mater continue to flourish over the coming years."
Bauer is a 1986 graduate of NC Wesleyan who majored in History and Political Science. He is a Senior Client Executive with JHA Risk Management in Rocky Mount. In this role, he develops customer relationships and specializes in commercial and personal property and casualty insurance sales.
"I'm thankful for the leadership and generosity that Dr. Crocker has provided to the University and our Board of Trustees. During his tenure, NC Wesleyan has experienced numerous enhancements and growth," stated Dr. Evan D. Duff. "I look forward to continuing to work with him as an active member of the Board and maintaining this momentum with the appointment of Mr. Bauer."
Dr. Crocker has served on the Board of Trustees since 1997 and was Vice Chairman from 2016 until 2018. He and his wife, Brenda, have been avid supporters of NC Wesleyan throughout the years creating multiple scholarships, mentoring students and beautifying campus with Brenda's gardening talents. In appreciation for their selfless contributions, the board has established an endowed scholarship fund in their name. With Dr. Crocker's passion for higher education and nursing, the scholarship will go to benefit NCWU nursing students.
"Witnessing the success of North Carolina Wesleyan University is a passion of mine and I have full confidence that Paul will continue to lead this University to new heights," stated Dr. Crocker. "I'm proud of the accomplishments that we've been a part of and I look forward to continuing to work with this talented group of board members."
Bauer has served on the Board of Trustees since 2014 and as Vice Chair since 2018. As Board Chair, he will lead 20 others from a variety of backgrounds and industries who serve on the North Carolina Wesleyan University Board of Trustees.
About North Carolina Wesleyan University North Carolina Wesleyan University (NCWU) is a small, private Methodist-affiliated institution with a liberal arts-based core curriculum that prepares students for professional advancement, life-long learning and responsible participation in their communities. NCWU offers liberal arts, professional and graduate degree programs for traditional, transfer and working-adult students. The skills cultivated by faculty and built into the curriculum include critical thinking and reflection, communication, collaboration, and information technology. North Carolina Wesleyan University delivers education that is personal, practical and purpose-driven. Personal…through mentoring and the connections that are provided. Practical…by helping students develop lifelong skills. Purpose-driven…by helping them fulfill their purpose in life. With students from all over the United States and more than 40 different countries, the University has immense cultural diversity. To learn more, visit ncwu.edu and follow on Facebook, Twitter, LinkedIn, TikTok, Instagram and YouTube.