ROCKY MOUNT, NORTH CAROLINA – The Office of Career Development & Leadership at North Carolina Wesleyan University has established a new partnership with Ossid, a local corporation headquartered in Battleboro, to provide several job shadowing opportunities for its students. Ossid manufactures and sells machinery to a variety of businesses in need of wrapping, labeling and sealing equipment to package their products.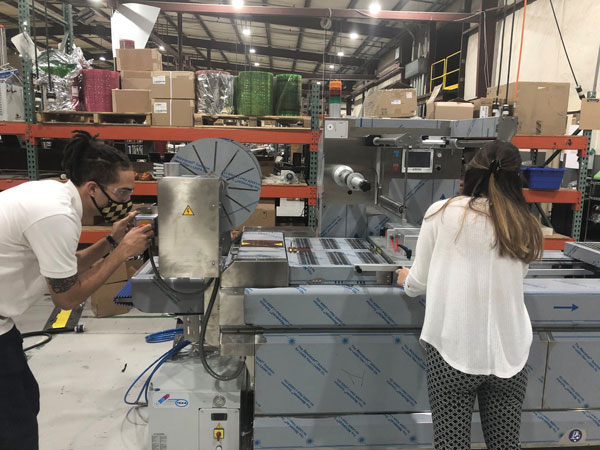 This unique learning opportunity was presented to all NC Wesleyan juniors and seniors with a major or minor in Marketing or Communications. Ossid's Senior Marketing Specialist, Stacie Eberly, typically works out of Charlotte, but travels to the Battleboro location on a monthly basis. During her visit the week of September 13, she hosted a group of NC Wesleyan students to work on trade show preparations, digital marketing, blog content and meeting with other executives.
"It was a pleasure opening our doors to NC Wesleyan University students. They were engaged, asked great questions and provided support across multiple marketing projects. I look forward to continuing this partnership with Wesleyan," stated Eberly.
Bijou Patel, a North Carolina Wesleyan senior majoring in Marketing, was able to shadow Eberly on Tuesday, September 14. During her time there, she participated in a business meeting, toured the facility and learned about the machinery and how it's marketed. Patel had the opportunity to witness what she's learned in the classroom in a real-world setting, stating "I got to see a lot of the things I learned in my classes implemented and thoroughly explained. I even got to provide input, which was heard and applied."
This partnership came to fruition when Jessie Langley, Associate Dean of Career Development and Leadership at NC Wesleyan, met with Eberly to tour Ossid's local facility. After learning more about Eberly's role, Langley explored ways in which NCWC students could gain knowledge within the field.
"I can't think Ms. Eberly enough for investing time in our students. I look forward to continuing to send students to shadow with her on a monthly basis. This model sets a precedent for other area businesses to consider. Structured job shadowing is one ideal way to invest in our students' career development," stated Langley.
About Ossid
Ossid is the industry leader for leak-resistant tray sealing for case-ready products, flexible packaging for healthcare, horizontal thermoform, fill and seal equipment, weigh/price labeling equipment, flow wrappers and case scales. Catering to customers of all sizes around the world, Ossid's packaging solutions are ideal for fresh and processed meats, produce, convenience foods, consumer goods, and medical devices. Ossid is a product brand of ProMach, a global leader in packaging line solutions. As part of the ProMach Flexibles & Trays business line, Ossid helps our packaging customers protect their reputation and grow the trust of their consumers. ProMach is performance, and the proof is in every package. Learn more about Ossid at Ossid.com