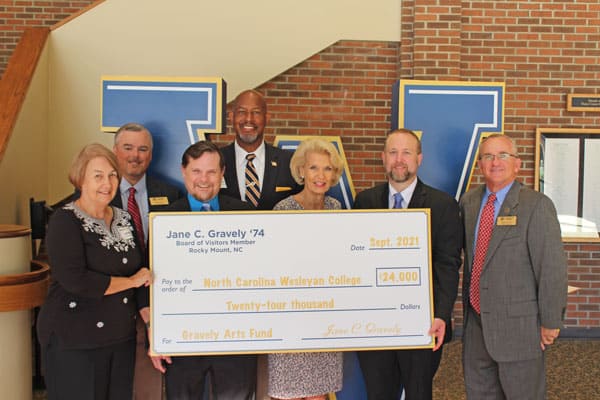 ROCKY MOUNT, NORTH CAROLINA – North Carolina Wesleyan University launched their annual fall fundraiser, The Wesleyan Promise Campaign, on Monday, September 27 at a kickoff breakfast in The Dunn Center. This campaign seeks vitally important support for various purposes including student scholarships, the latest in cutting-edge technology, lab enhancements, recruitment of students and faculty, additional library resources and more.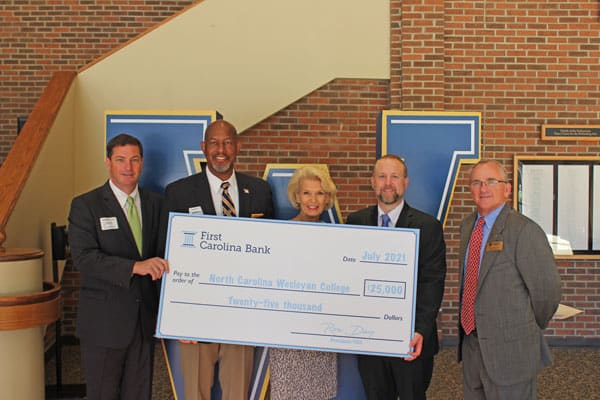 To help usher in the campaign, two highlights of the event included check presentations by First Carolina Bank and NC Wesleyan alumna, Jane Gravely. Lank Dunton, First Carolina Bank's Market Executive for the Rocky Mount Area, presented the College with $25,000 to support the Sports Stadium Project. First Carolina Bank has been a banking partner with NC Wesleyan and is a strong supporter of the Sports Stadium Project and other ongoing efforts at the College. Jane Gravely '74 donated $24,000 to establish the Gravely Arts Gallery in The Dunn Center and start an endowment supporting the visual arts programs at NC Wesleyan. She is a current NC Wesleyan Board of Visitors member and fan of the arts.
"We are so grateful for the support this community shows the College. For 65 years we've been serving not only our students, but the community as well. That partnership, from its beginning to today, has been mutually beneficial," stated Eddie Coats, Vice President of Advancement. "As NC Wesleyan continues to grow and thrive, so will the opportunities we offer back to the area through the arts, academic excellence, quality athletics, entertainment and volunteer support. Regardless of the size, we are grateful for all gifts of support during this campaign."
The College has set a goal of raising $280,000 by October 25. Those who are interested in supporting this campaign can give securely online at ncwu.edu/donate or by calling 252.985.5581.