ROCKY MOUNT, NORTH CAROLINA – North Carolina Wesleyan University officially installed Dr. Evan D. Duff as its 8th president on Friday, September 17, 2021. An inauguration ceremony was held in Minges Auditorium at The Dunn Center on the College's campus.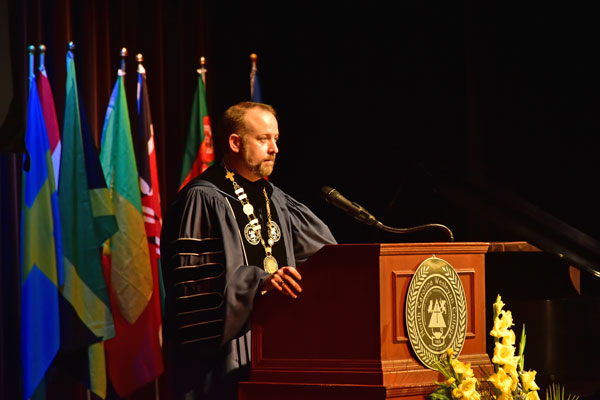 Opening remarks were given by Rebecca Mitchell, NC Wesleyan senior, double majoring in Psychology and Biology and intern in the President's Office. "From the beginning, Dr. Duff has demonstrated his passion for helping students, offering them a voice and a place to call home," stated Mitchell. She continued, "Dr. Duff truly cares about his students and their overall well-being."
Greetings to Dr. Duff were given by students, faculty, staff, board members and friends. Some unable to attend sent personal greetings via video. Constance Williams, NCWC Board Member and human resource professional, offered her congratulations, stating "President Duff is by far one of the most visionary, humble and forward-thinking executives I have ever had the privilege to know. He prioritizes and operates from a position of fairness, excellence, inclusion and kindness."
Janice Bryant Howroyd, Founder/Chief Executive Officer of the ActOne Group and NCWC Board Member, also sent her well-wishes, noting "Dr. Duff's vision for the school is only exceeded by his strong competency and his vision for what life can be like for all of us."
Award-winning actress, Sharon Lawrence, delivered her virtual greeting saying "I know that under Dr. Duff's successful leadership, this institution has thrived in very challenging circumstances. I also recognize that today's installation honors the tradition of Wesleyan excellence and investment in education for our region."
A surprise, handwritten letter from Governor Roy Cooper was presented to Dr. Duff on his accomplishments. It read, "Rocky Mount is proud to be home to North Carolina Wesleyan University and the outstanding programs and experiences it offers to its students. I know under your leadership, it will continue to grow and be an important North Carolina institution of higher learning. On a personal note: thanks Dr. Duff— this is my home area and I know how important this great College is."
Dr. Dan Crocker, Chairman of NC Wesleyan's Board of Trustees, conducted the Investiture of the President. Afterwards, Paul Bauer, Vice-chairman of the Board of Trustees, presented Dr. Duff with a Presidential Medallion, a symbol of authority and a token of esteem and confidence. One side displays the President's name and date of Inauguration, the other the College seal. The Seal includes five symbols – an owl is shown for wisdom, a lion for courage, a triangle for the Trinity, a budded cross for Christianity and a lamp for learning.
Dr. Duff was then joined on stage by his wife of 23 years, Marcy, and their four children – Tyson, Landon, Peyton and Chloe – as Rev. Laura Wittman gave a blessing of the presidential family.
Immediately following the Inauguration, a luncheon honoring Dr. Duff was held at the Rocky Mount Event Center for family and close friends.