ROCKY MOUNT, NORTH CAROLINA – North Carolina Wesleyan University (NCWC) recently signed an agreement that will help qualified graduates of Craven Community College (Craven CC) transfer to Wesleyan. The agreement aims to provide a seamless transfer for students who enroll at Wesleyan following completion of their two-year degree at Craven CC.
Leaders of both colleges signed the Memorandum of Understanding (MOU) on November 5 in a virtual signing via Zoom. This new agreement adds Craven CC to a list of over 30 other colleges and community colleges throughout North Carolina that have a transfer partnership with NCWC.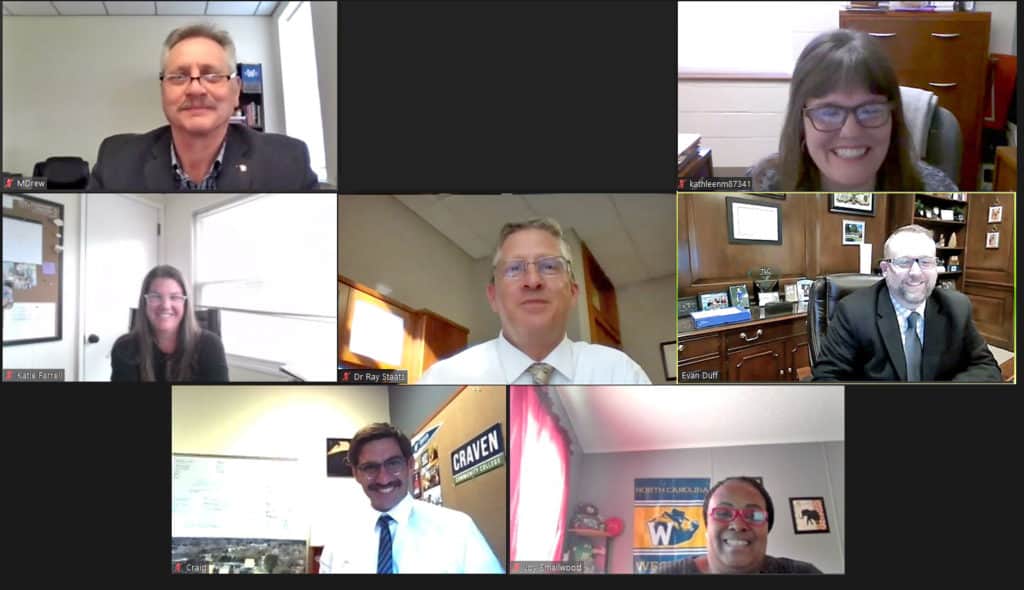 "We are proud to partner with NC Wesleyan and provide our graduates an opportunity to participate in Wesleyan Works," said Craven CC President Dr. Ray Staats. "Providing our students opportunities to build upon their degrees they've earned at Craven CC gives them a convenient and seamless way to earn their baccalaureate degrees, and NC Wesleyan offers program options that align with many of our associate degrees. We value our university partnerships as they provide local options for our students and demonstrate our commitment to lifelong learning."
The agreement will enhance and expand the educational opportunities of Associate in Arts, Associate in Science and Associate in Applied Science graduates by offering Craven CC graduates access to the benefits of the Wesleyan Works program, pre-admission advising, generous transfer credit and a clear definition of the transfer of courses from Craven CC to NC Wesleyan. This MOU allows Craven CC Associate in Applied Science students to transfer an additional 15 hours of general education credits for a total of 75 transfer credits.
"NCWC has enjoyed a successful partnership with Craven Community College since 2015 and we are excited to enhance the benefits of this partnership in 2020," stated Katie Farrell, Associate Dean of Adult & Professional Studies. "Our goal has always been focused on improving transfer credits for community college graduates and through this agreement, Craven graduates will have increased flexibility in transferring their credits resulting in a faster and affordable pathway to their 4-year degree."
Students who graduate from Craven CC and transfer under this agreement may select any of NC Wesleyan's programs of study or may transfer to the college's Adult and Professional Studies program, taking advantage of the Wesleyan Works program. Students are required to maintain a minimum GPA of 2.0 and be in good academic standing. The agreement brings NC Wesleyan within the reach of Craven CC students who may not have otherwise been able to attend the College.
Wesleyan Works is a transfer program designed for community college students who plan to continue their education at NC Wesleyan. Students who participate in Wesleyan Works will have access to academic advising and financial aid counseling through NC Wesleyan, as well as access to events on the College's main campus. The program is ideal for students who would like to attend NC Wesleyan's evening or online programs.
About North Carolina Wesleyan University
North Carolina Wesleyan University, a private institution affiliated with the United Methodist Church, prepares students for professional advancement, life-long learning and responsible participation in their communities. NC Wesleyan University provides a highly personalized education in a dynamic and challenging environment. With students from all over the United States and more than 40 different countries, NC Wesleyan is a small college with a big taste for cultural diversity. To learn more, visit ncwu.edu and follow on Facebook, Twitter, LinkedIn and Instagram.
About Craven Community College
Founded in 1965, Craven Community College (Craven CC) is part of the North Carolina Community College System. With campuses in New Bern and Havelock-Cherry Point, Craven CC serves about 3,200 curriculum students and more than 10,000 continuing education students each year. The college offers a wide range of associate degree and certificate programs, as well as college transfer courses, career and occupational offerings, partnerships with four-year universities, specialized workforce training options, developmental studies and basic skills classes. The Lifetime Learning Center and Adult Enrichment Program offer lifelong learning opportunities. Craven Early College High School programs are available on both campuses. Craven CC is also home to Public Radio East, one of the few community colleges nationally with this distinction. For more information about the college, visit www.cravencc.edu.