ROCKY MOUNT, NORTH CAROLINA – On Saturday, May 1, North Carolina Wesleyan University held Spring Commencement at the Rocky Mount Event Center celebrating 300 graduates. This commemorated the College's 81st graduation, the first occurring in 1964.
Due to current state COVID regulations, the event was open to graduates, faculty, the platform party and four ticketed guests per graduate. The state's mask mandate and social distancing safety precautions were observed. Of the 300 total graduates, there were 27 international graduates from 16 countries: Argentina, Columbia, Czech Republic, France, Israel, Italy, Mexico, Morocco, Nepal, Portugal, Rwanda, Saint Lucia, South Korea, Spain, United Kingdom and Venezuela.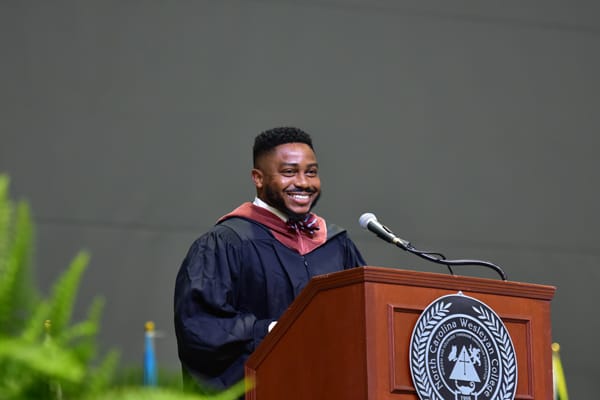 "While commencement is always a special time for graduates, this graduation shines a little brighter because it is the first time since 2019 that we have been able to celebrate our graduates with family and friends present. The Rocky Mount Event Center provides substantial space to allow up to four guests per graduate, while following current state guidelines, and we are extremely grateful for that," stated President Dr. Evan D. Duff.
Alumna, Ms. Latisha Scott '06, performed the Star-Spangled Banner followed by a baccalaureate message from College Chaplain, Rev. Dr. Barry Drum. In his message, Dr. Drum encouraged students to give everyone a fair chance and "to look beyond the superficial, to hear beyond the sound bite, to think beyond the cynicism and sarcasm, and instead, consider all persons of sacred worth."
The commencement address was given by Mr. Brandon P. Fleming, Assistant Coach of Debate at Harvard University, as well as Founder/CEO of the Harvard Diversity Project. At the age of 26, he was recruited to join the Harvard Debate Council faculty after coaching The Ron Clark Academy middle school debate team in a high school tournament to an unprecedented, undefeated record. As one of Ron Clark's "Master Educators," he also trained over 30,000 educators worldwide on best practices in education. Fleming has received numerous awards for his work in education and social entrepreneurship. Notably making history as an elected speaker for the inaugural International Day of Education at the United Nations General Assembly. He was also named to the 2020 Forbes 30 Under 30 list and recognized by The Root Magazine as one of the top 100 influential African-Americans in the United States.
Fleming's message to the graduates centered around overcoming failure, stating: "Failure is not only necessary and inevitable, but it is also one of our greatest gifts…it's the gift with the most promise. No matter what field you go into…your responsibility is to be a servant leader. Failure promises us a gift that money can't buy– that is the gift of empathy. Empathy changes people more than information ever will. God does not call those who are qualified, but he qualifies those whom he calls. When you fail, my earnest hope and my deepest desire is that you will fail forward."
The College also honored Nicole Danielle Jackson with an Honorary Posthumous Degree. Nicole was a native of Rocky Mount and mother of four who started attending NC Wesleyan in 2016. She was pursuing two degrees, a B.A. in Psychology and B.S. in Computer information Systems, and had already earned 96 semester hours at the time of her death on May 9, 2020. Her family members were present at the ceremony to receive her degree.
Alexandra Cucinotta received the Algernon Sydney Sullivan award, which honors a senior who best exemplifies excellence in character, leadership and service to the community. Cucinotta obtained Bachelor of Arts degrees in both Communication and Entertainment Arts.
The President's Cup, an award that recognizes the attainment of the highest standards of academic performance as demonstrated by the overall grade point average, went to Elijah Blaise Gourley. He earned a Bachelor of Art degree in Liberal Studies and a Bachelor of Science in Marketing.
Tony Sawyer, Professor of Music Production, received the 2020 Exemplary Teacher Award and Dr. Meir Magal, Professor of Exercise Science, received the 2021 Exemplary Teacher Award. This award honors excellence in teaching, service to the College and scholarship.
In addition, NC Wesleyan's ROTC program commissioned five graduates into the United States Army. These students took the oath of office from NC Wesleyan's Director of Army ROTC, LTC (R) James Mercer. The newly commissioned Second Lieutenants include: Second Lieutenant Kate Avila commissioned into Adjutant General Corps/Active Duty, Second Lieutenant Tyree Butler commissioned into Infantry/Active Duty, Second Lieutenant Dion Cox commissioned into Finance Corps/US Army Reserves, Second Lieutenant DeShawn Finley commissioned into Medical Service Corps/Active Duty and Second Lieutenant Kori Shumate commissioned into Military Police/North Carolina National Guard.

The event was live streamed and recorded so family and friends who were not able to attend in person could celebrate with their students virtually. The recording can be viewed at ncwu.edu and the College's Facebook page.