On Saturday, May 7, North Carolina Wesleyan University held its Spring Commencement at the Rocky Mount Event Center celebrating 479 graduates. This commemorated the University's 82nd graduation and included the first class of graduates in its new RN-to-BSN program.
The event was open to graduates, faculty, the platform party and seven ticketed guests per graduate. Of the graduates, there were 24 international graduates from 10 countries: Argentina, Colombia, Italy, Jamaica, Japan, Netherlands, Paraguay, Spain, United Kingdom and Venezuela. University Chaplain, Rev. Edwin Ferguson, gave the invocation, followed by a performance of the Star-Spangled Banner by alumna, Ms. Latisha Scott '06.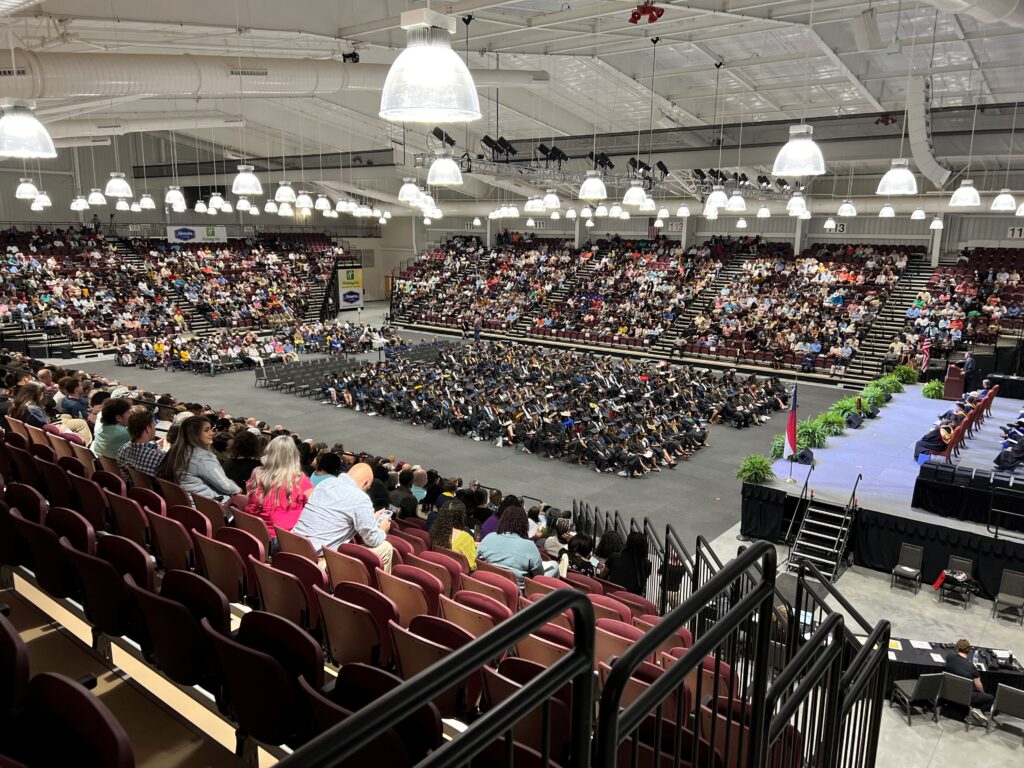 "This is indeed a joyous occasion; a time when we celebrate learning and academic achievement," stated President Dr. Evan D. Duff. "Your degree is provided by an institution which seeks not only to dispense knowledge and develop the habits for lifelong learning, but also expects its graduates to be responsible citizens, contributors to the common good— women and men who care about others. As we celebrate together, we acknowledge the obligations all of us have to help bring about a better world."

The commencement address was given by Daniel Erwin "Dan" Jansen, a retired American speed skater and Olympic gold medalist. A multiple world champion in sprint, Jansen won a gold medal in his final race (1,000 meters) in the 1994 Winter Olympics in Lillehammer, Norway. In 1993, Jansen set a world record in the 500-meter event and was cast as a favorite to win gold at the 1994 Winter Olympics. Between the 1992 and 1994 Olympics, Jansen was the only skater to break 36 seconds in the 500 meters, doing so four times. In 1994, Jansen won his second World Sprint Championship title.
Jansen's message to the graduates centered around defining success. "Results are going to be there…give your best every time you're out there, that's really all that you can ask," stated Jansen. "You have to learn from every experience. The greatest thing may happen to you, or the worst thing may happen to you— try to take something away and learn something."
Dr. Daniel Elias, Assistant Professor of Biology, received the 2022 Exemplary Teacher Award This award recognizes excellence in teaching and promotion of student learning, civility and concern for students and colleagues, commitment to value-centered education, service to students beyond the classroom and service to the larger community beyond campus.
Alyssa Brookhart received the Algernon Sydney Sullivan award, which honors a senior who best exemplifies excellence in character, leadership, service to the community and a commitment to spiritual values. Brookhart obtained Bachelor of Science degrees in both Biomedical Science and Environmental Science.
The President's Cup, an award that recognizes the attainment of the highest standards of academic performance as demonstrated by the overall grade point average, went to Rebecca Mitchell. She earned a Bachelor of Science degree in Biology and is a graduate of the Honors Program.
In addition, NC Wesleyan's ROTC program commissioned two graduates into the United States Army. These students took the oath of office from NC Wesleyan's Director of Army ROTC, LTC (R) James Mercer. The newly commissioned Second Lieutenants include: Second Lieutenant Savion Young and Second Lieutenant Solomon Pownall, both commissioned into the U.S. Army.
The event was live streamed and recorded so family and friends who were not able to attend in person could celebrate with their students virtually. The recording can be viewed at ncwu.edu and the College's Facebook page.