ROCKY MOUNT, NORTH CAROLINA – North Carolina Wesleyan University's new Corporate Adoption Program (CAP) recently wrapped up its inaugural partnership with Envolve Benefit Options. The purpose of the CAP initiative is to enhance the career readiness skills of NCWU students by providing them with direct exposure to professional work settings and contacts. Envolve Benefit Options, which has a corporate office at the Rocky Mount Mills campus, hosted two Wesleyan students in the first cohort. Since completing the program, these two students have been hired as interns with Envolve.
This partnership was announced in November 2021 after a meeting was held at NCWU with students and representatives from the company. These students were then engaged in a full-day learning experience in early October on the Rocky Mount Mills campus.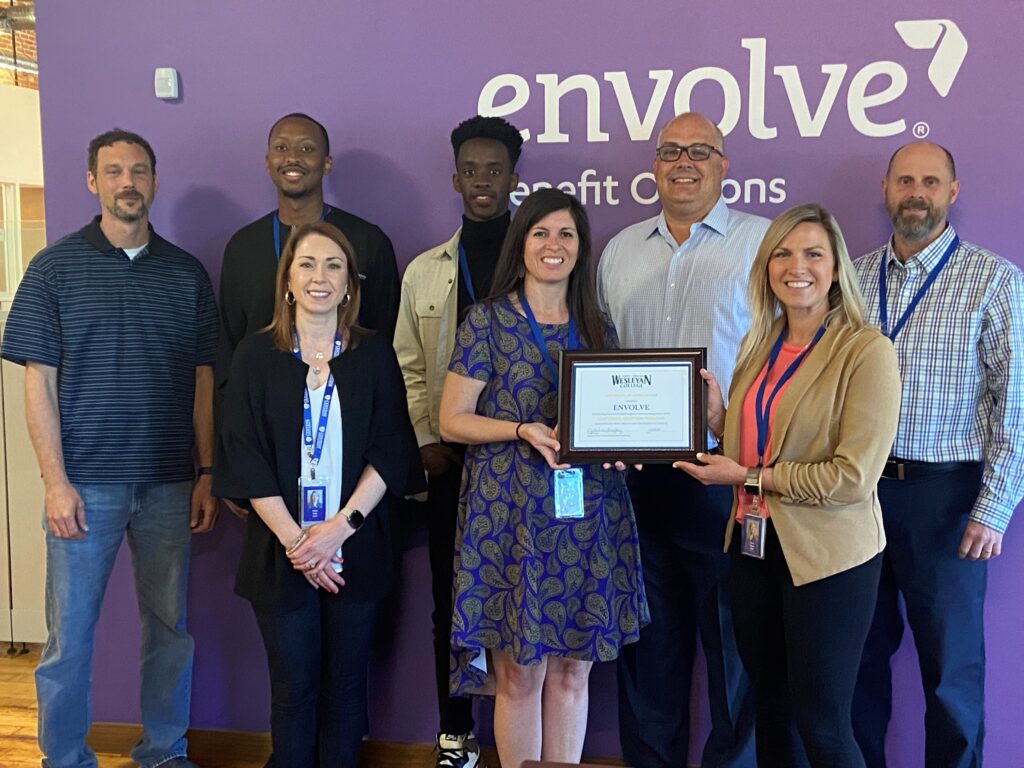 "It was very rewarding to watch these students present their ideas for addressing a real business need and to see how much the Envolve team benefitted from their contributions. These students took full advantage of this year's inaugural CAP experience, absorbing and applying a great deal of information about an industry they have no prior experience in. I'm grateful to the Envolve team for the investment they made in these students," stated Jessie Langley, Associate Dean of Career Development & Leadership.
Eligible students are juniors and seniors with a 2.5 GPA or higher and a major applicable to the partner's industry and project at hand. Those accepted are assigned to a CAP team that includes five-to-ten students, one faculty mentor and one corporate partner. The Envolve partnership consisted of students majoring in Accounting, Business, Communications, Computer Information Systems and Marketing.
When students apply to be a part of CAP, they are making a commitment to participate in the following:
– Intentional growth in career readiness skills
– Meetings with their assigned CAP group and Faculty Advisor as needed
– Fall Break and a minimum of two days during Spring Break
– Participating and presenting on an assigned corporate project with their CAP team during the spring semester
Rocky Mount-based corporations for future CAP partnerships will be selected based on the organizations' expressed genuine interest in investing in the growth and development of a team of NCWU students and willingness to designate an internal CAP program manager. The CAP program manager will host workshops and meetings led by corporate speakers, while also maintaining ongoing communication with CAP students, faculty and staff. In addition, CAP partners are encouraged to offer paid summer internships to NCWU students in the program. Local organizations that are interested in partnering with North Carolina Wesleyan University's CAP program can contact Jessie Langley at jlangley@ncwu.edu or 252.985.5177.