ROCKY MOUNT, NORTH CAROLINA – The Mims Gallery at The Dunn Center will kick off their 2021-22 season with an opening reception featuring local artist, Ashley Fabrizio. This free, public event will take place on Thursday, September 9 from 5:00 – 7:00 p.m. Gallery receptions provide a unique opportunity to enjoy new art, socialize and meet the artist.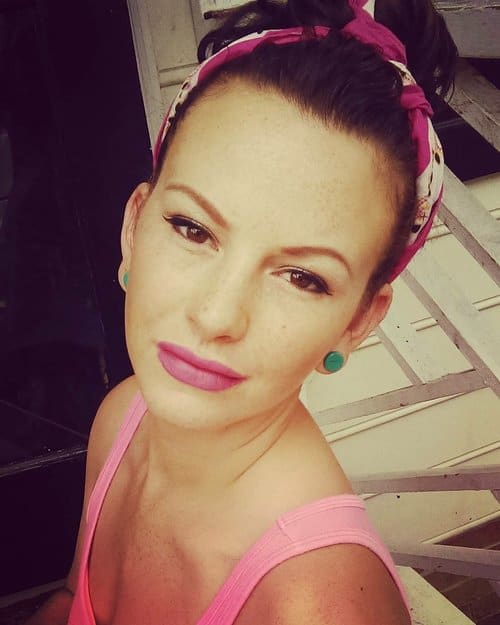 Already famous in local community, Fabrizio is the artist behind the 125-foot by 30-foot CSX mural on the side of Station Square in downtown Rocky Mount. Fabrizio will discuss her experiences as a muralist, commission painter and paint party hostess, as well as a creative force in regional expressionist painting. A "fearless" artist, there is no subject she will shy away from, including portraits of friends, celebrities and dogs in vivid color and bold brushwork. You can feel the energy and excitement in her paintings, as well as envision her ideas and thoughts about her subject matter.
Educated in local schools and a student of painting and art education at Barton College, Fabrizio has found her artistic voice as an expressionist where emotion and bursts of excitement drive her vision and painting style. She is an active member of both the Wilson and Rocky Mount art communities, as well as other regional venues.
A mother of two young children, Fabrizio balances her creative life with parenting. Her determination to make a living as a career artist is to be admired. You can find Ashley at the Bel Air Art Center in downtown Rocky Mount where her lively, free-spirited mural is already a Bel Air landmark.
Don't miss this opportunity to view Fabrizio's work. Her studio paintings will be on display and for sale in The Mims Gallery through October 22, making a great addition for your home or office collection.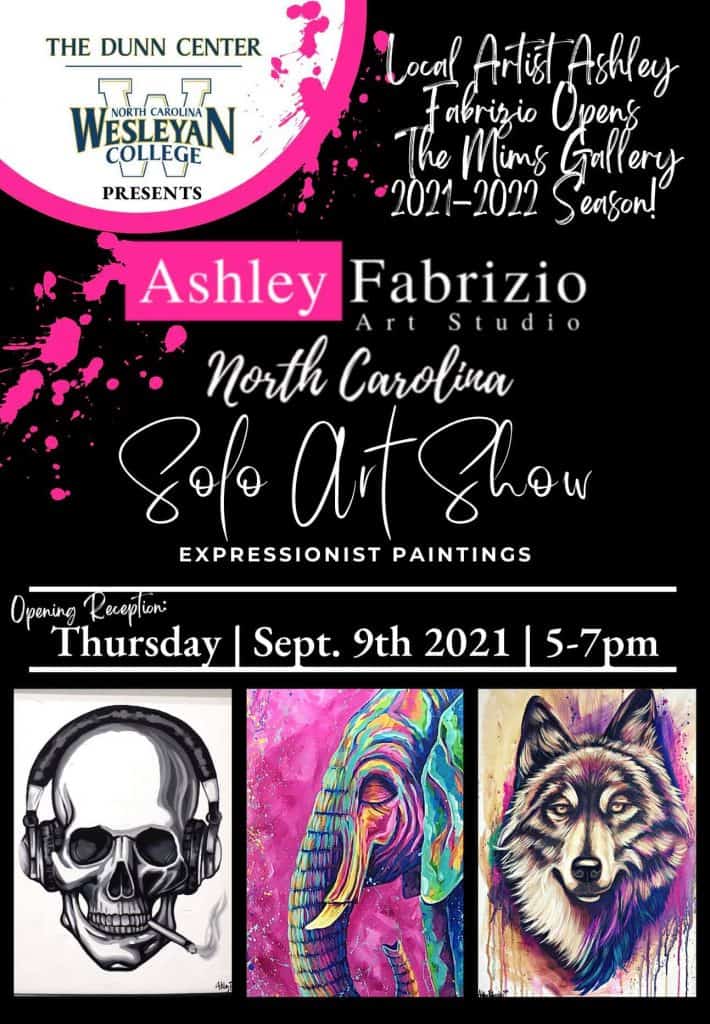 About The Dunn Center

The Dunn Center is a premier venue for concerts, shows and conferences in eastern NC. Located on the campus of NC Wesleyan University, in the heart of Rocky Mount, The Dunn Center is proud to host the Wesleyan Season Series of cultural events and concerts. In addition to these world-class performances, The Dunn Center features a variety of campus and community events, including Wesleyan Players productions, concerts of the Tar River Swing Band and Orchestra and other various performances by nationally known artists. The Mims Gallery, located within The Dunn Center, hosts a variety of exhibits, including paintings, drawings, and sculpture. The Gallery is open weekdays from 2:00-4:00 p.m., as well as during performances. To learn more, visit dunncenter.com and follow on Facebook.