ROCKY MOUNT, NORTH CAROLINA – North Carolina Wesleyan University's e-sports club, The Bishop Gaming Association (BGA), recently developed a partnership with WHIG-TV to provide training opportunities for students. Future plans of the partnership include the development of a 30-minute show that will be aired on WHIG-TV, along with job shadowing and internship opportunities.
"We are delighted to be partnering with WHIG-TV. They have been the source of local TV content in Rocky Mount for years. This partnership will provide our students with a unique way to engage with the local community," stated Chantoni Grant, Admissions Counselor and Director of the Bishop Gaming Association. "This would not have been possible without Dr. Gena Messer-Knode (NC Wesleyan's Dean of Career Services and Business Innovation), Sandra Smith (General Manager of WHIG-TV) and Robert Morris (Technical Director of WHIG-TV) who were committed to providing Wesleyan students with a remarkable learning opportunity."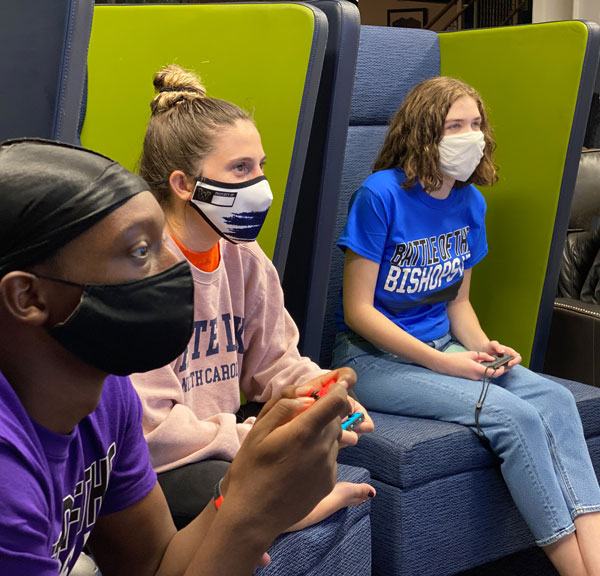 The BGA was founded by Grant during his time as a student in 2019. The club aims to promote the culture of gaming, media and entertainment by providing experiences, advice, awareness and resources to students who are interested in growing in these fields. It has quickly become the College's largest student organization, averaging more than 80 members over the past three years. Students within the club shoot, edit and produce a bi-weekly segment called "BGA News," which is broadcast on televisions throughout campus and on The BGA's social media accounts.
The BGA partnership with WHIG-TV will provide students with the ability to explore broadcast technique, filming, editing and production. Through these opportunities, students will receive hands-on experience applicable to their future career paths.