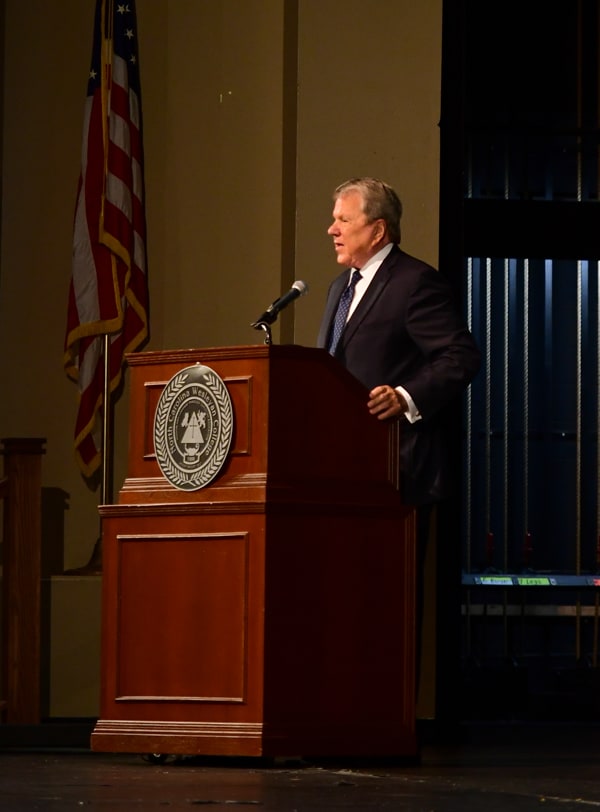 ROCKY MOUNT, NORTH CAROLINA— North Carolina Wesleyan University held its 63rd annual new student convocation today at The Dunn Center for the Performing Arts. Interim President, Dr. Evan D. Duff, welcomed the Class of 2023 and congratulated them on taking the next step in their educational journey.
"During your time at Wesleyan, you will learn meaningful skills that will help you to successfully navigate life… so you can make an impact on the world," stated Duff. "
The ceremony highlight was keynote speaker David Crabtree, lead anchor/reporter for WRAL-TV in Raleigh. After addressing the crowd, the award-winning reporter of over 37 years challenged new students to "change the world and love your neighbor."

Crabtree, a Tennessee native, is no stranger to dedicating one's time and effort to advancing their education, after receiving his Master of Divinity from Duke Divinity School in May. Some of Crabtree's most memorable assignments include the election of Pope Francis, the funeral of Nelson Mandela, an interview with Holocaust survivors, Pope John Paul II's funeral, Mother Theresa's funeral and covering seven major hurricanes, to name a few.
David Crabtree imparted this knowledge upon students— "You are on a magnificent journey. Embrace it. Love it. Love your neighbors. Change the world. Make us better."
Other speakers included College chaplain, Reverend Barry Drum, Interim VP of Academic Affairs & Dean of Students, Dr. Molly Wyatt and Associate Dean of Students, Jessie Langley.
New students poured out of The Dunn Center embraced by a cheering crowd of returning students, faculty, staff and friends of the College who formed a time-honored tradition— the Bishop Tunnel. As they proceeded through the tunnel, they were each welcomed by Dr. and Mrs. Duff. Students then continued on to the annual Rock the Mount event at the Southern Bank Green, where they were also greeted by local businesses and community organizations.