ROCKY MOUNT, NORTH CAROLINA – Rock the Mount is an annual tradition held each fall at North Carolina Wesleyan University to celebrate and welcome new students to campus, as well as to the local community. Each year, Rock the Mount is held the day before students' first day of classes, serving as the official kick-off event for the new academic year. This semester, the event is sponsored by Southern Bank and will be held from 11:00 a.m. to 2:00 p.m. on Tuesday, August 15. Business owners, churches and other nonprofits are invited to come promote their organization and gain exposure with NCWU students.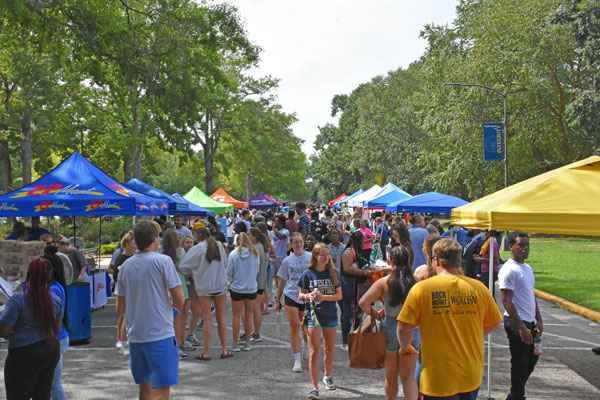 That day, hundreds of students take their rite of passage through a time-honored tradition—the Bishop Tunnel—formed by a cheering crowd of returning students, faculty, staff, alumni and community members. As they pass through the tunnel, they are met with a warm welcome by President, Dr. Evan D. Duff and wife, Marcy. They then proceed down the Southern Bank Green, located in the center of campus, where businesses and organizations are eagerly awaiting an opportunity to help the Bishop family welcome these new students to Wesleyan, Rocky Mount and the surrounding community. Businesses and organizations are set up with tents and booth displays that decorate the street and Southern Bank Green, creating a runway for students to stop and browse their products and services.
Last year, Rock the Mount brought nearly 80 vendors to campus; this year, NC Wesleyan aims to have even more businesses and organizations on campus to make the event even more of a success. Are you the owner of a restaurant or coffee shop? Students love to eat and run on coffee! Do you have an automotive shop? Unlike many colleges and universities, NCWU allows students to bring their cars their freshman year, so they too will need oil changes and tire rotations. Are you part of a local church? Use this opportunity to connect with students looking for a local, faith-based family to join. By celebrating the start of another exciting school year with Wesleyan, you form a bond with new students who could potentially become customers, interns and even future employees. Come make a great first impression as NCWU welcomes the Class of 2027.
Local food trucks will be on-site to provide a variety of food options for everyone and live entertainment will be provided by Meredith Davis Johnson, the band "Blind Joy" and DJ 3two1. Those interested in participating should bring a six-foot tablecloth—NCWU will provide the table. A tent is not required, but it's August in North Carolina so you may appreciate the shade— just keep it 10'x10' or less. Also, giveaways are completely optional, but they are a great way to stand out from the rest and maybe even become the crowd favorite!
Participation is free, but display spaces are limited. The registration deadline is Monday, July 31; however, businesses and organizations are encouraged to sign-up as soon as possible at bit.ly/RockTheMount23. For more information, contact Elliott Smith at esmith@ncwu.edu.
About North Carolina Wesleyan University
North Carolina Wesleyan University (NCWU) is a small, private Methodist-affiliated institution with a liberal arts-based core curriculum that prepares students for professional advancement, life-long learning and responsible participation in their communities. NCWU offers liberal arts, professional and graduate degree programs for traditional, transfer and working-adult students. The skills cultivated by faculty and built into the curriculum include critical thinking and reflection, communication, collaboration, and information technology. North Carolina Wesleyan University delivers education that is personal, practical and purpose-driven. Personal…through mentoring and the connections that are provided. Practical…by helping students develop lifelong skills. Purpose-driven…by helping them fulfill their purpose in life. With students from all over the United States and more than 40 different countries, the University has immense cultural diversity. To learn more, visit ncwu.edu and follow on Facebook, Twitter, LinkedIn, TikTok, Instagram and YouTube.