Alumni Relations
Sign Up For the Bishop Beat Newsletter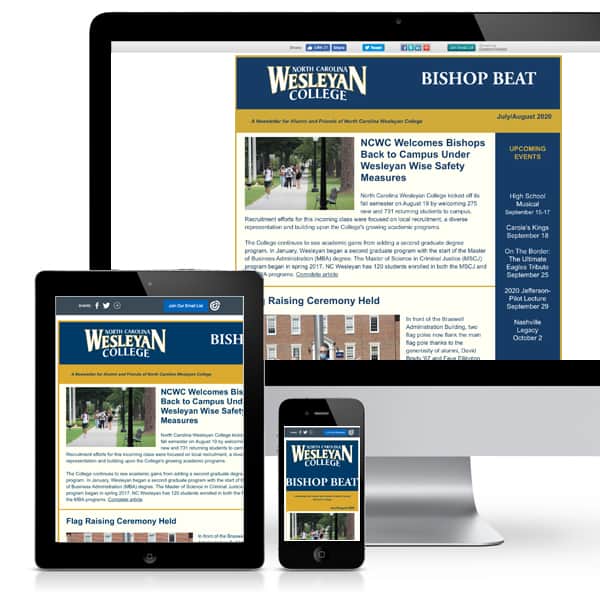 If you earned a degree from North Carolina Wesleyan University, you are now a member of the North Carolina Wesleyan University Alumni Association. The NC Wesleyan Alumni Association is led by our Board of Directors.
There are many ways for Wesleyan Alumni to get involved with the college as well as reconnect. Click on the following links to learn more about the different Alumni Organizations.
Class Champions
Class Champions are a vital link between North Carolina Wesleyan University and its alumni. As an alum, you have a lot to offer your alma mater. When you share your time and talents as a Class Champion, not only do you build closer ties with other alumni and the College, but you also gain opportunities to network with people who share a common experience or interest. Champions serve as NC Wesleyan volunteer leaders through their regular communication with former classmates. Attendance at College events such as homecoming, graduation and alumni gatherings offer opportunities to invite and encourage other alumni to attend and participate as well. You can also serve as a volunteer for Rock the Mount or as a special guest speaker for a student event. Show your Bishop pride and enthusiasm for North Carolina Wesleyan University by signing up to be a Class Champion today! If interested contact alumni@ncwu.edu.
Alpha Delta Chi
Remember when the brothers of Alpha Delta Chi, a local fraternity on campus, re-routed Hwy 301 traffic through campus or kept two of Rocky Mount's finer establishments, The Rainbow Club and Mack's open? Find out more about the Alpha Delta Chi's annual alumni gathering, the Big Chill, by visiting Alpha Delta Chi-Beta Chapter on Facebook.
Nu Gamma Phi
Nu Gamma Phi, a local, service fraternity on campus, was officially recognized in 1967 and quickly took the City of Rocky Mount and the NC Wesleyan campus by storm. Starting a tradition of community service and giving back, the brothers of Nu Gamma Phi have produced years of outstanding alumni who continue to excel in their professional fields. The Nu Gamma Phi brothers continue to show their commitment to NC Wesleyan through their support of the Alumni Association and by creating and endowing the Nu Gamma Phi Scholarship. Find Nu Gamma Phi Fraternity on Facebook.
Alumni Area Events
If you would like to be involved in helping to plan an area alumni event, please contact the Alumni Relations Office at alumni@ncwu.edu or call 252.985.5266.
2020-2021 Alumni Association Board of Directors
The Alumni Board of Directors leads the overall Alumni Association and is comprised by a group of elected members. If you are interested in serving on the Alumni Board, please complete the Alumni Board Nomination Form below or email alumni@ncwu.edu.
President – Ken McLeod '89
Vice President – 
Treasurer – 
Secretary – Kristin Hurd '09
Alexis Rodriguez '14
Jeffrey Shelton '69
Jessica Harrison '10
Jewel Beamon '93
Kimberley Langis '00
Maya Pittman '17
Ricky Ciuffetelli '15
Sherry Holland '04
Ex-officio Member
Director of Alumni Relations