Alumni Relations
Sign Up For the Bishop Beat Newsletter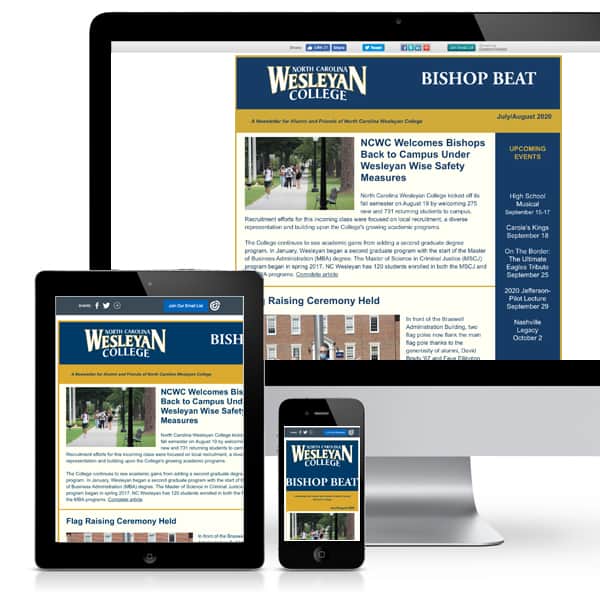 We invite fellow Bishops to connect, reconnect, and get updates on NCWU at upcoming alumni events. By attending these events you will learn about ways you can help cultivate Wesleyan in your area.
Also, if any of your contact information has changed, please let us know by selecting the "Update Info" button. Help us stay in contact with you!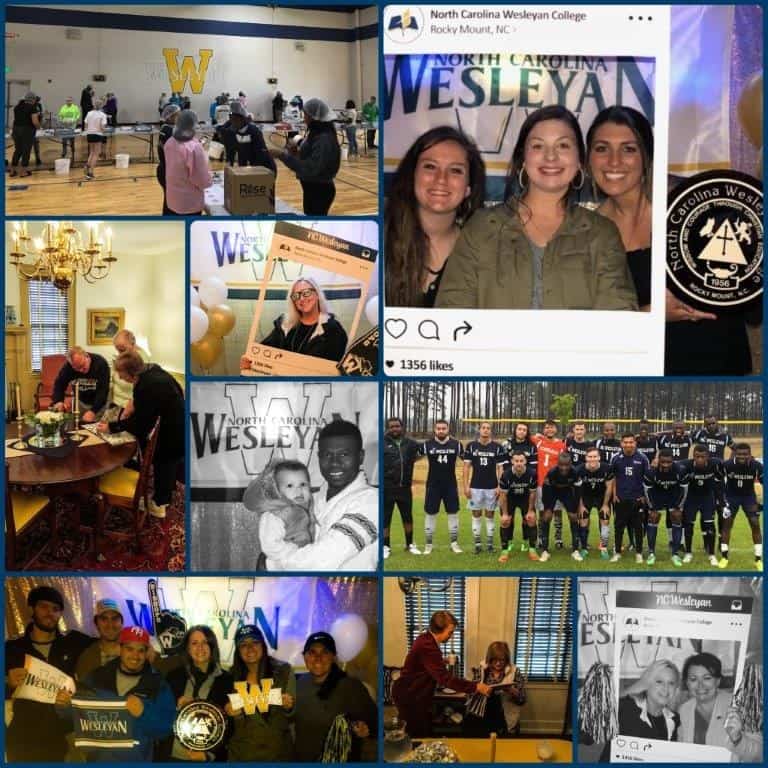 Upcoming Alumni Events
Connect Intentionally.
GET ENGAGED!
Whether attending a world-class performance at The Dunn Center for the Performing Arts, participating in a lecture series, strolling the walking trail or cheering for our Bishops— engagement is a simple way to get involved. Having alumni, friends of the University, donors and guests actively engaged on campus is an important aspect to our students' experience.
STAY CONNECTED!
Help NC Wesleyan share our story! Like the University's social media accounts to stay up-to-date on news, scores, happenings and announcements. More importantly, make a  connection with us! Having a large community of followers reading and sharing our posts helps Wesleyan gain exposure to more people, more potential students and perhaps more donors.
AWARD OPPORTUNITY!
Can you offer job shadowing or internship opportunities to students? Your involvement in advancing their educational journey is essential to their personal and professional growth. Have an opportunity for a Bishop? Let us know.
Serve Selflessly.
VOLUNTEER TIME!
Volunteering can be one of the most rewarding ways to give. Being a student mentor, tutoring a student, providing a meal to a select group of students or helping to clean our campus and planting flowers are small ways your time can be invested at the University.
SHARE YOUR TALENTS!
Use your talents for a higher purpose: photography, videography, graphic design, architectural drawings or if you have other skills that would benefit the University, share them to enrich Wesleyan's campus.
SPONSOR AN EXPERIENCE!
Fund a student job shadowing experience. A donation of $1,000 pays for travel, housing and food for a student with an out-of-state externship. This opportunity allows them to learn and serve at some of the top companies in the Country.
WesMagazine
An inside look at everything NC Wesleyan University. The winter 2020 edition of WesMagazine includes articles featuring areas of academics, student life, athletics and advancement. You'll get a glance at the first-ever homecoming game on campus and details on new academic programs such as our RN to BSN program.
Bishop Beat E-Newsletter
The Bishop Beat is an online newsletter for Alumni and friends of the University. These monthly issues highlight alumni, Dunn Center activities and overall news related to the NC Wesleyan Community.
The Decree Newspaper
The Decree is our student newspaper that is published 5 times each year. In addition to reporting on-campus events, The Decree regularly features creative writing – fiction, poetry, personal essays – by students and other members of the University community.