ROCKY MOUNT, NORTH CAROLINA – North Carolina Wesleyan University strives for its students to excel both inside and outside of the classroom. To assist with success outside of the classroom, Dr. Gena Messer-Knode, Dean of Career Development & Business Innovation, launched The Wesleyan Professional Closet to provide professional attire for NCWC students.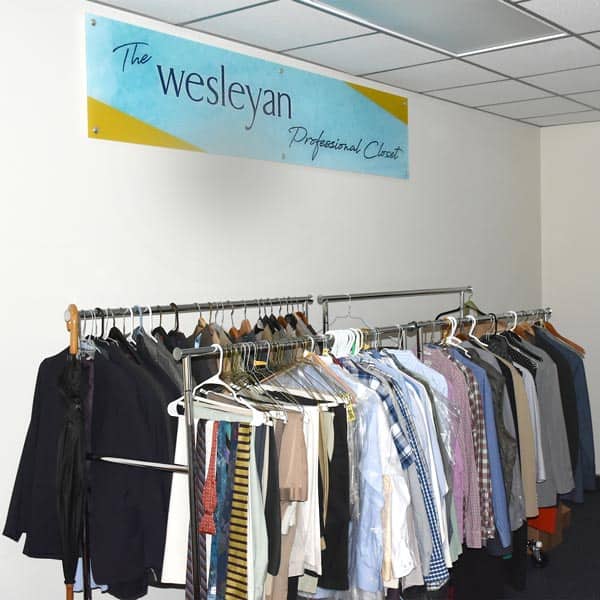 The idea came to fruition almost a year ago, but the initiative was put on hold due to COVID-19. The Wesleyan Professional Closet is located on the second floor of the Gateway Technology Center at the front of NC Wesleyan's campus. Students are able to borrow clothing for interviews, school events and other community functions. This service is completely free and based on the honor system. Students can show up, try on clothing and then provide dates for their event in order to ensure that the clothes will be available. Once they are finished with the event, the clothes are laundered and placed back on the rack for future use.
"The way we dress affects everything – the way we think and feel. It impacts how we act and react to various scenarios. I want the students at NCWC to feel their best when they have opportunities for growth and development," stated Dr. Gena Messer-Knode, Dean of Career Development & Business Innovation.
NC Wesleyan is especially thankful to two community members who were instrumental in donating a significant amount of clothing to help get the initiative up and running: Pell Foster with First Presbyterian Church in Rocky Mount and David Farris, President and CEO of the Rocky Mount Area Chamber of Commerce.
Those who are interested in donating professional attire can contact Gena Messer-Knode at GKnode@ncwu.edu or 252.985.5151 to arrange a drop off or pick up time.