Wesleyan Students Awarded for their Research
---
Biomedical Science seniors, Beverly Anaele and Jawuanna McAllister, presented their research at the NC Academy of Science (NCAS) at UNC Wilmington on March 23, 2019. Both young women have been doing research at NC Wesleyan for the past two years, independently as juniors and later as part of their senior honors theses. Beverly has worked with Dr. Kosal, and Jawuanna has worked with Dr. Stovall.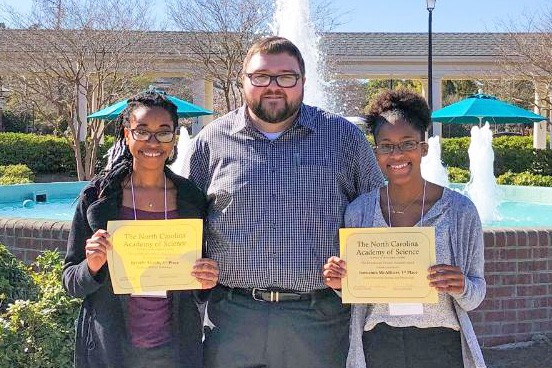 At the conference, Beverly won the 3rd Place Derieux Award for her oral presentation in the Ecology, Botany, & Zoology category! Her talk was titled "Can a natural plant product, such as the American beautyberry, repel and alter mosquito behavior?" Jawuanna won the 1st Place Derieux Award for her oral talk in the Cell & Molecular Biology and Physiology category. Jawuanna's talk was "Effect of Caffeine on PALLD Expression and GBM Cell Invasion."
Both Beverly and Jawuanna have just finished one-year terms as the Secretary and President, respectively, of the Collegiate Academy of NCAS. Both young women are graduating from Wesleyan this semester and have big plans! In August, Beverly, who recently won the Biology Award at the NC Wesleyan Honors Convocation, will begin a Master's of Public Health program at Thomas Jefferson University, and Jawuanna will start her Ph.D. in Biochemistry, Molecular and Cell Biology at Cornell University.
Congratulations to these outstanding and successful young scientists! The Biology department will be sad to see them go. But, we are so excited to see what they become.