Graduates Inaugural Masters Class

ROCKY MOUNT, NORTH CAROLINA – North Carolina Wesleyan University held its Spring Commencement on Saturday, May 4 at the Rocky Mount Event Center. This year's commencement speaker was Tony Stroud, alumnus of Wesleyan and founder and CEO of Stroud & Company, a Wilmington, NC accounting firm.
Stroud, spoke about graduates staying true to themselves, filtering through the noise and listening to their inner voice. "Integrity is who you are when no one is looking. That whisper is who you are when everyone is looking. And if you listen to that whisper, you win," stated Stroud. After his speech, an honorary degree of Doctor of Humanities was bestowed upon Stroud.
Spring 2019 graduation was especially moving as Wesleyan honored Brad Melton, who passed away in December 2018, with a Posthumous Degree. Brad was a member of the Class of 2019 in the Master of Criminal Justice program. Brad's mother was in attendance to receive the degree in his memory.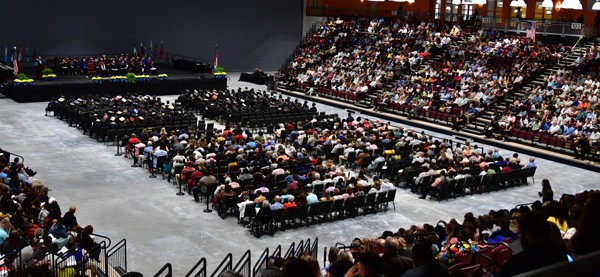 There were 233 undergraduate students in the Class of 2019 Saturday, with over 2,650 guests in attendance. In addition, 11 students graduated in the first cohort of Wesleyan's new Master's in Criminal Justice program.
"We are very excited to graduate our first master's class," stated Wesleyan President Dr. Dewey Clark. "These students, both undergraduate and graduate, have gained a wealth of knowledge here at Wesleyan and they are ready to go out and take on the world. I wish them nothing but the best."
Beverly Anaele received the Algernon Sydney Sullivan award which honors a senior who best exemplifies excellence in character, leadership and service to the community. Anaele obtained her Bachelor of Science degree in biomedical science. She will pursue a Master of Public Health at Thomas Jefferson University in the fall.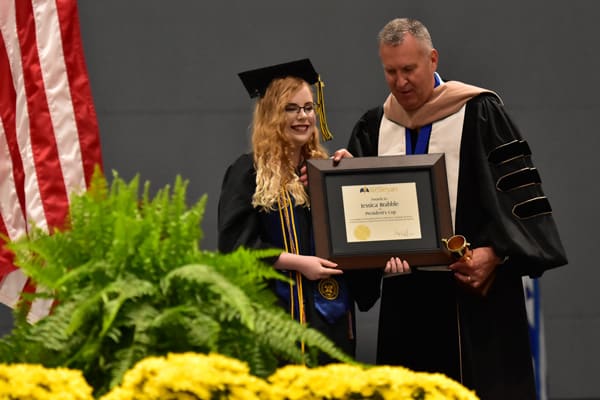 The President's Cup, an award that recognizes the attainment of the highest standards of academic performance, went to Jessica Brabble. She earned her Bachelor of Science degree in Accounting and will pursue a Master of History at Virginia Tech in fall 2019.
Dr. Erica Kosal, Professor of Biology, received the Exemplary Teacher Award which honors excellence in teaching, service to the college and scholarship.
This year's graduates hail from 10 states around the country, calling home Arizona, California, District of Columbia, Florida, Georgia, Idaho, Maryland, North Carolina, Texas and Virginia. There were sixteen international graduates from Argentina, Egypt, El Salvador, Greece, Nepal, Nigeria, Panama, Sweden, United Kingdom, Uruguay and Venezuela.