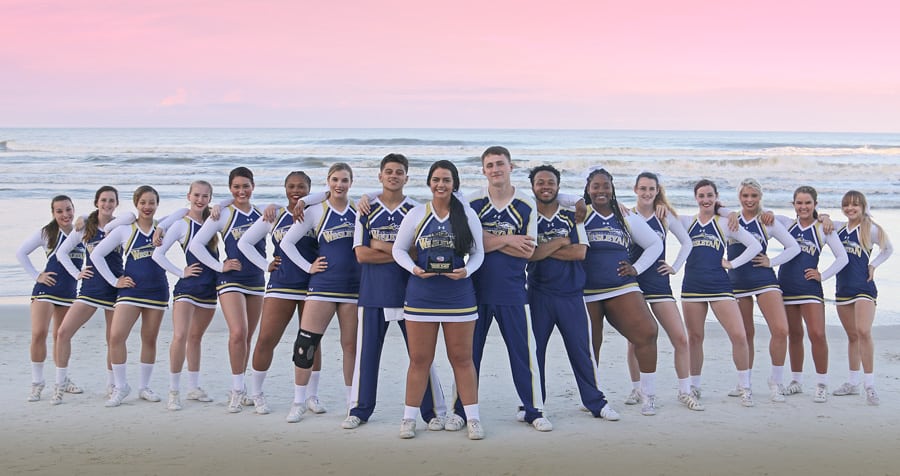 ROCKY MOUNT, NORTH CAROLINA –On Thursday, April 4, the North Carolina Wesleyan University cheer team traveled to Daytona Beach, Florida to compete in the National Cheerleaders Association Collegiate Championship under the leadership of new coaches, Lyndsey and Pete Graham. 
After a strong morning practice and a confident warm up, the Bishops took the mat for the second time on Friday. The team placed third nationally in the Intermediate Small Coed Division III.
Spirit Coordinators/Cheerleading and Dance Coaches, Pete and Lyndsey Graham, assumed leadership of the cheer program back in January. Pete works with the teams full-time, while Lyndsey coaches part-time.The dynamic duo is responsible for coordinating the cheer and dance team in recruitment, try-outs, choreography, practices, game days and campus/community events. 
"We are incredibly excited for this team. Third place is an amazing accomplishment and we couldn't be happier," stated coach Pete Graham.
Together, the couple has a combined nine years of experience coaching at the college level. Lyndsey Graham graduated from Liberty University with a degree in Psychology and Pete Graham graduated from NC State University with a degree in Business Administration. Both excelled in cheer at their universities and were chosen to serve as team captains. The couple went on to marry, celebrating their one-year wedding anniversary just before starting at NC Wesleyan. The new coaches have experience in competing at the National Cheerleading Associations College Nationals at Daytona Beach, Universal Cheerleading Associations College Nationals in Orlando, UCA & NCA Nationals, NCAA and Big South. Besides competing and coaching at the college level, both have experience in leadership positions with the Christian Cheerleaders of America for numerous years.
"We are very excited about Pete and Lyndsey joining the College and leading our Cheer and Dance programs," stated Ed Naylor, Dean of Student Affairs and Legal Matters. "They are experienced, talented, energetic and will advance our competitive cheer program, as well as improve the game day experience for many of our athletic programs."
To learn more about Wesleyan's Cheer and Dance Program, visit ncwcsports.com.