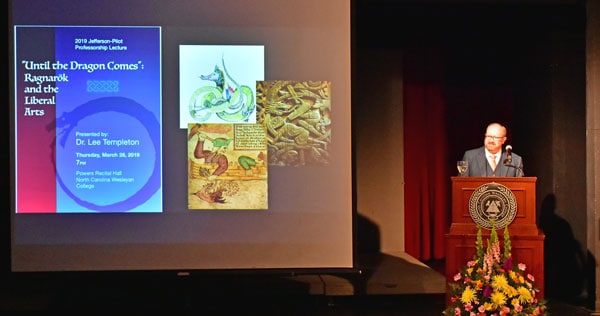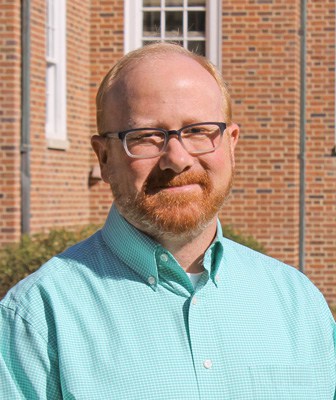 ROCKY MOUNT, NORTH CAROLINA –North Carolina Wesleyan Professor, Dr. Lee Templeton, has been awarded with the 2018-2019 Jefferson-Pilot Professorship. This award is the highest and most singular honor that can be bestowed upon a faculty memberand is given in recognition of scholarship, teaching and community service.
The Jefferson-Pilot Professorship is an endowed award that was established in 1981 through the generosity of the Jefferson-Pilot Life Insurance Company. The honoree is nominated by a committee of faculty and appointed by the president of the college. To be eligible for consideration, the faculty member must have tenure and have clearly distinguished themselves with high standards of excellence. As teachers, they demonstrate a whole-hearted dedication and rigorous professionalism in forwarding their students' learning and personal development for life and work. As scholars, they have to possess a mastery of their discipline, contribute to new understanding and knowledge, and demonstrate a lively commitment to life-long learning for themselves, as well as their students. Additionally, as a member of the Wesleyan community, they give generously to the aims and programs of the College, both with their time and means.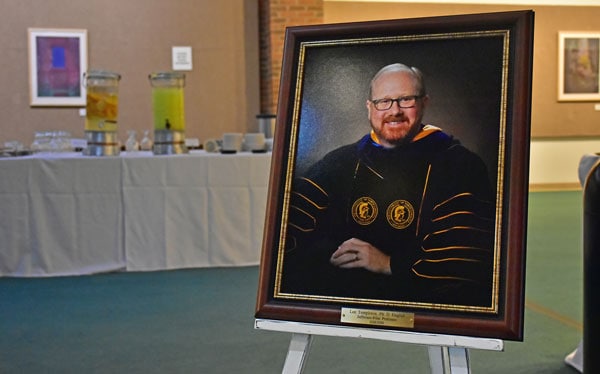 "When the nominating committee met to discuss our consolidated list of potential faculty nominees, it quickly became apparent to the committee that one single faculty member stood head and shoulders above the rest as the clear choice for the 2018-2019 Jefferson-Pilot Professorship Award," stated Dr. Evan Duff, Interim President at Wesleyan. "Overall, Dr. Templeton has a strong record of teaching, scholarly activity and service."
Dr. Templeton, now in his eleventh year at Wesleyan, delivered his Jefferson-Pilot Professorship Lecture, entitled: "Until the Dragon Comes: Ragnarok and the Liberal Arts," on Thursday, March 28. His talk explored two topics– dragons and higher education – and attempts to connect the two in a meaningful way. Beginning with an examination of the figure of the dragon and its various metaphorical meanings, in Old Norse/Icelandic and Anglo-Saxon myth and literature, Dr. Templeton considers current trends in higher education through the metaphorical lens of the dragon.
During the lecture presentation, the 2019-2020 recipient of the Jefferson-Pilot Professorship was announced. Next year's awardee is Dr. Jeffrey Kuglitsch, Associate Professor of Earth Science.