ROCKY MOUNT, NORTH CAROLINA – North Carolina Wesleyan University is thrilled to announce that all home football games are scheduled to be played on campus for the 2020 season due to a generous donation from alumnus, Vernon T. Bradley, Jr. The College recently received Bradley's gift of $150,000 to be used for bleachers, a scoreboard and other signage.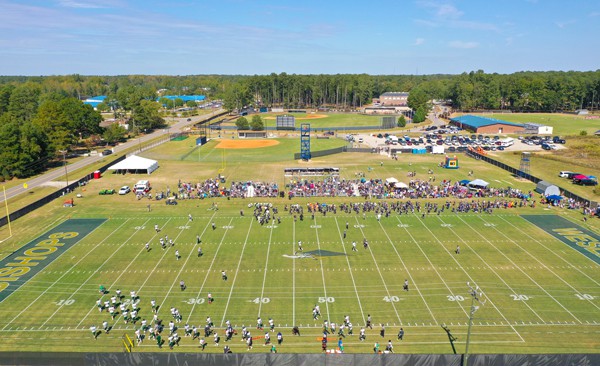 NC Wesleyan saw great success last fall with its first-ever on-campus football game for homecoming on the Vernon T. Bradley Jr. football practice field. A 1980 graduate of Wesleyan, Vernon T. Bradley, Jr. is a 2007 NCWC Athletics Hall of Fame inductee and the 2016-2017 Distinguished Alumni Award recipient. As a tennis player at Wesleyan, he enjoyed a solid four-year career that saw him become one of the most decorated athletes in the program's history.
A three-time Most Valuable Player from 1978 to 1980, Bradley was the first tennis player to receive MVP accolades on three occasions. He also claimed another Bishop milestone in 1978 when he earned Dixie All-Conference honors at #1 singles. Once again, being the first Wesleyan player to achieve such honors.
Bradley has remained an avid supporter of NC Wesleyan over the years and has enjoyed a successful career in real estate. "Vernon T. Bradley Jr. continues to be a leader in many ways and among individual donors, Vernon is our #1 donor, giving more than any other individual in the history of the College", stated President Duff.
"I am so excited that the opportunity our campus and community enjoyed last year with our first-ever on-campus football game will be expanded by Vernon's consistent and overwhelming support of the College. The impact on our student-athletes and campus community cannot be overstated," stated Aaron Denton, Director of Athletics.
The namesake of several campus landmarks, including the Vernon T. Bradley, Jr. Sports Complex, Residence Hall, Football Practice Field, Field House and Lobby, his commitment and dedication to North Carolina Wesleyan University is evident in his accomplishments both on and off the court.