ROCKY MOUNT, NORTH CAROLINA – NCWU's Board of Trustees recently voted to name the future Vernon T. Bradley, Jr. Sports Stadium Press Box in honor of Marion Barnes' family. Barnes' father, Guy Barnes, was one of the original founders of NC Wesleyan. The Marion Barnes Family Press Box will kick off Phase II of NC Wesleyan's Sports Stadium Campaign.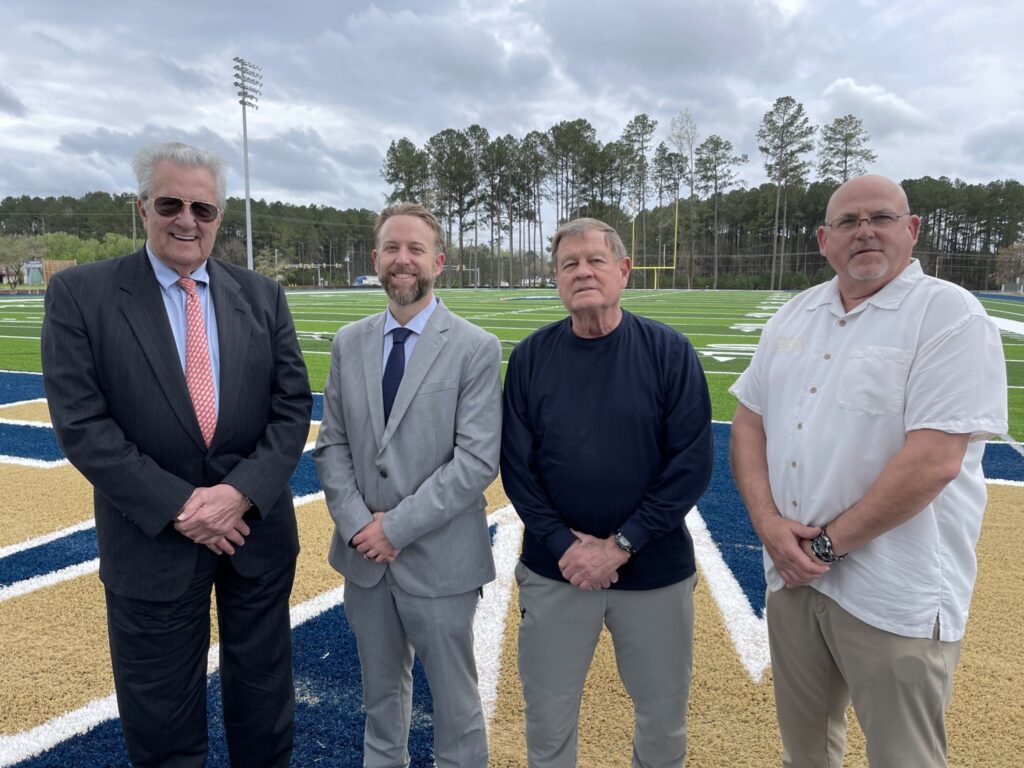 Marion Barnes is the owner of Frontier Trailer Associates, Inc. in Rocky Mount, NC directly adjacent to Wesleyan's new stadium. NCWU recognizes the many and longstanding efforts of Mr. Barnes, including years of dedicated service and personal contributions to the University, as well as additional gifts to the Sports Stadium fundraising efforts. To date, he has single-handedly raised over $2 million towards construction of the stadium.
"Marion's love for Wesleyan and his belief in the ability to shape students' lives through athletics remains evident in his personal commitments, as well as the tenacity in which he has led the fundraising effort for the stadium. He and his family's dedication to education in Rocky Mount, specifically at Wesleyan, will forever be one of their family's legacies," stated Aaron Denton, VP of Athletics.
Phase I of the Sports Stadium Campaign was unveiled this April when Vernon T. Bradley, Jr. presented a $1 million check. Stallings Field at Vernon T. Bradley, Jr. Stadium consists of a new turf field, lighting and additional parking. As funding allows, additional phases will include permanent seating, scoreboards and a new fieldhouse. The new fieldhouse will contain an athletic training room, weight room, classrooms, meeting space and offices. Others who are interested in helping with Phase II of the campaign can contact Aaron Denton, VP of Athletics, at adenton@ncwu.edu.
About North Carolina Wesleyan University
North Carolina Wesleyan University (NCWU) is a small, private Methodist-affiliated institution with a liberal arts-based core curriculum that prepares students for professional advancement, life-long learning and responsible participation in their communities. NCWU offers liberal arts, professional and graduate degree programs for traditional, transfer and working-adult students. The skills cultivated by faculty and built into the curriculum include critical thinking and reflection, communication, collaboration, and information technology. North Carolina Wesleyan University delivers education that is personal, practical and purpose-driven. Personal…through mentoring and the connections that are provided. Practical…by helping students develop lifelong skills. Purpose-driven…by helping them fulfill their purpose in life. With students from all over the United States and more than 40 different countries, the University has immense cultural diversity. To learn more, visit ncwu.edu and follow on Facebook, Twitter, LinkedIn, TikTok and Instagram.