ROCKY MOUNT, NORTH CAROLINA – On Wednesday, June 15, North Carolina Wesleyan University welcomed its new Provost, Dr. Joseph "Joe" Lane. Dr. Lane comes to Wesleyan from Bethany College in Bethany, West Virginia where he held the position of Provost and Dean of Faculty.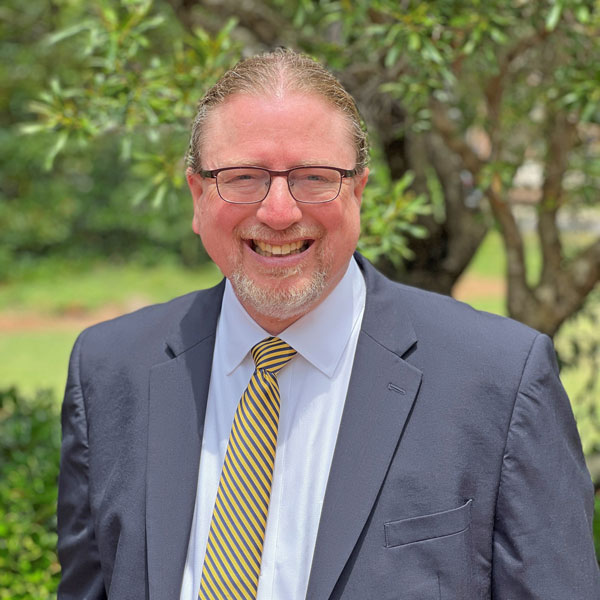 As an academic administrator at Bethany, Lane was responsible for a broad portfolio including all of the college's academic programs, student success and retention initiatives, career development, study abroad and accreditation. He played a leading role in creating new programs (including three master's degree programs), which were connected to admissions and retention strategies. He also led an initiative that resulted in more than a 12% improvement in fall-to-fall retention over a three-year period.
Prior to coming to Bethany, Lane served 17 years on the faculty of Emory & Henry College where he held the Hawthorne Professor of Politics and served as an instructor, department chair and founding director of the College Honors Program. Lane has also held faculty appointments at Bowdoin College and Hampden-Sydney College. He earned his B.A. in Classical Studies and Political Science at Hampden-Sydney and his Ph.D. in Political Science from Boston College.
"Dr. Lane's extensive background in private higher education, paired with his vast skillset, make him an excellent asset to NC Wesleyan University. I look forward to working with him as we continue to develop personal, practical and purpose-driven initiatives positioning Wesleyan, and our students, with a brighter future," stated President, Dr. Evan D. Duff.
In his role as Provost, Dr. Lane will serve as Chief Academic Officer overseeing academic and student affairs. This includes Student Life, Residence Life, academic programs, faculty, Registrar's office, Elizabeth Braswell Pearsall Library and institutional research. Lane will work with Division Chairs and faculty leaders to maintain appropriate and up-to-date academic programs and curricula. He will also advise the President on all matters concerning University-wide planning, policy and operations, while establishing measures of institutional effectiveness and progress.
About North Carolina Wesleyan University
North Carolina Wesleyan University (NCWU) is a small, private Methodist-affiliated institution with a liberal arts-based core curriculum that prepares students for professional advancement, life-long learning and responsible participation in their communities. NCWU offers liberal arts, professional and graduate degree programs for traditional, transfer and working-adult students. The skills cultivated by faculty and built into the curriculum include critical thinking and reflection, communication, collaboration, and information technology. North Carolina Wesleyan University delivers education that is personal, practical and purpose-driven. Personal…through mentoring and the connections that are provided. Practical…by helping students develop lifelong skills. Purpose-driven…by helping them fulfill their purpose in life. With students from all over the United States and more than 40 different countries, the University has immense cultural diversity. To learn more, visit ncwu.edu and follow on Facebook, Twitter, LinkedIn, TikTok and Instagram.