ROCKY MOUNT, NORTH CAROLINA – North Carolina Wesleyan University was recently awarded a grant from NC Independent Colleges and Universities (NCICU) to help fund the iBelong Male Mentoring Program℠. The grant will be utilized to create opportunities for black male students to engage in a variety of activities that offer academic learning, emotional support, job readiness preparation, and cultural experiences such as field trips, movie nights and counseling sessions.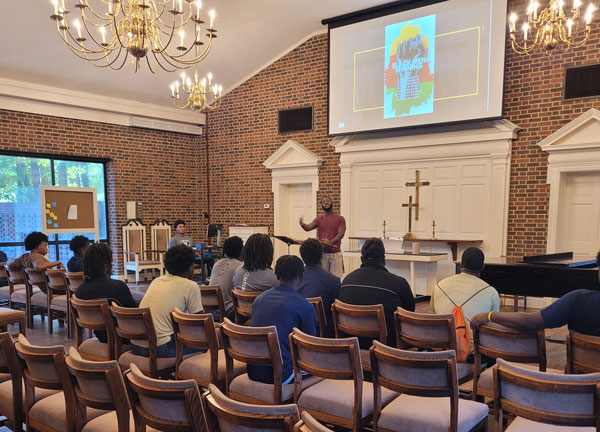 The NCICU iBelong Male Mentoring Program℠ provides funding to implement strategies designed to increase the retention and graduation rates of minority males at member campuses through mentoring, life coaching and educational forums. NC Wesleyan University joins 13 other NCICU campuses with iBelong Male Mentoring Programs. Dr. Kelvin Spragley, NCWU's Director of Teacher Education and Coordinator of Diversity and Inclusion Programming is providing leadership for this initiative.
"Mentoring programs for college and university students have been proven effective at increasing engagement, as well as persistence and completion rates for participants. This is especially true for male students of color," stated Dr. Kelvin Spragley. "Studies have shown that African-American students have very different experiences than their majority colleagues, among these are feelings of isolation and lower levels of campus engagement. I'm honored to help guide and mentor these young men through their college experience."
The iBelong Male Mentoring Program℠ at NC Wesleyan University is working through Black Men Winning, a recently created student organization devoted to uplifting and assisting African-American males in a holistic manner. The Black Men Winning student organization has already scheduled activities for the spring 2023 term, including a field trip to the National Museum of African American History and Culture, a Motivational Speaker Forum, Interview Workshops, STEM Forum Participation, and a Policing and the Black Community Forum. Currently, the program has 21 participants. For more information about the program, including how to partner with the University in this initiative, please contact Dr. Spragley at kspragley@ncwu.edu.
About North Carolina Wesleyan University
North Carolina Wesleyan University (NCWU) is a small, private Methodist-affiliated institution with a liberal arts-based core curriculum that prepares students for professional advancement, life-long learning and responsible participation in their communities. NCWU offers liberal arts, professional and graduate degree programs for traditional, transfer and working-adult students. The skills cultivated by faculty and built into the curriculum include critical thinking and reflection, communication, collaboration, and information technology. North Carolina Wesleyan University delivers education that is personal, practical and purpose-driven. Personal…through mentoring and the connections that are provided. Practical…by helping students develop lifelong skills. Purpose-driven…by helping them fulfill their purpose in life. With students from all over the United States and more than 40 different countries, the University has immense cultural diversity. To learn more, visit ncwu.edu and follow on Facebook, Twitter, LinkedIn, TikTok and Instagram.