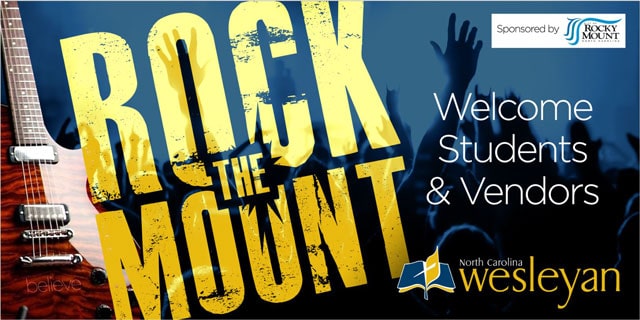 ROCKY MOUNT, NORTH CAROLINA – Local businesses, churches and organizations can register today to meet NC Wesleyan University's incoming Class of 2023 at the College's eighth annual Rock the Mount event. This year's event will be held on Tuesday, August 27 from 11:00 a.m. to 1:30 p.m.

Rock the Mount is an annual tradition for NC Wesleyan to welcome new students to campus and to the community. It takes place the day before the College's first day of classes, serving as the official kick-off event for the new academic year. Local businesses and organizations are given the opportunity to come and celebrate the start of a new school year with food, music and free advertising.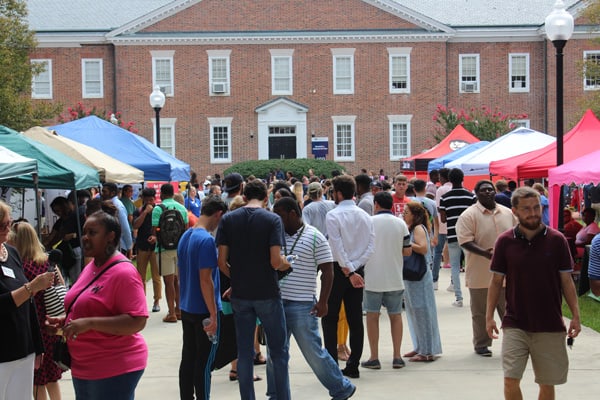 Each year, hundreds of students flow through a Bishop Tunnel, formed by cheering returning students, faculty, staff, alumni and community members. The tunnel leads them to the Southern Bank Green, located in the center of campus, where businesses and organizations are setup with booths displaying their products and services. Last year's Rock the Mount event brought 75 vendors to campus, including companies such as BB&T, Bojangles' and Sheetz.

NC Wesleyan aims to have even more vendors this year. "This event was established in order to help build relationships between the College and the greater Rocky Mount area," stated Tammy Robinson, Director of Donor Relations & Stewardship at Wesleyan. "Students are able to discover many of the area businesses and places to worship, as well as have the chance to discover volunteer and part-time job opportunities."

The event is free to vendors and the College provides a six-foot folding table, two chairs and complimentary lunch. Exhibitors are required to bring table covers, while power cords and small tents (no larger than 10' x 10') are encouraged. Vendors can begin setting up the day of the event on the Southern Bank Green at 9:30 a.m. and are asked to have setup completed by 10:30 a.m.
Display spaces are limited, so businesses and organizations are encouraged to sign up now. All who would like to participate must register online by Friday, August 2 at rockthemount2019.eventbrite.com. For additional questions, contact Tammy Robinson at trobinson@ncwu.edu or at 252.985.5581.