A new transfer partnership agreement will create a streamlined path for Forsyth Technical Community College graduates to pursue a bachelor's degree from North Carolina Wesleyan.
WINSTON-SALEM, N.C. (January 8, 2020) –-During a formal signing event on Wednesday, January 8, North Carolina Wesleyan University announced a new agreement with Forsyth Technical Community College (Forsyth Tech) to facilitate degree completion and student success by improving access to undergraduate educational resources, college facilities and support systems.
"Forsyth Tech is thrilled to collaborate with NC Wesleyan in this agreement," said President of Forsyth Tech Dr. Janet N. Spriggs. "Having this strategic alliance will offer tremendous benefits to our students and to the community in demonstrating how higher education works together to improve student completion and success."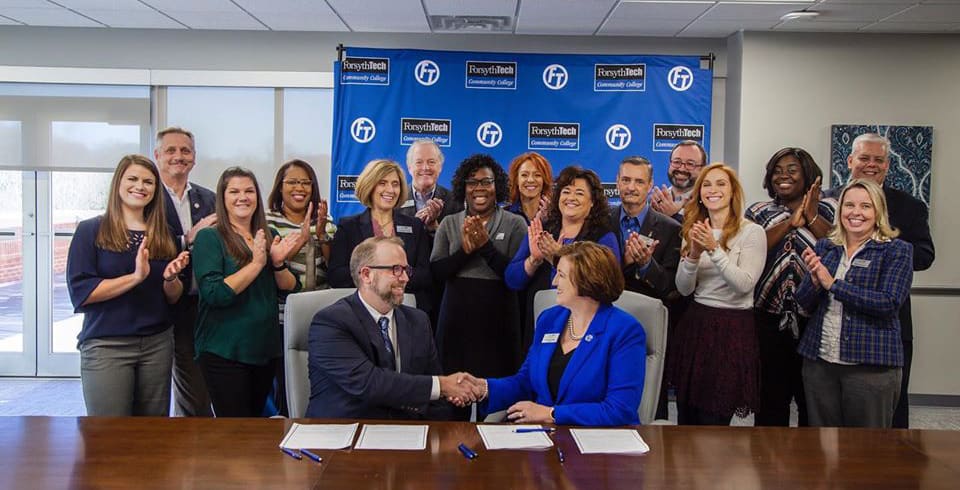 In partnership, NC Wesleyan and Forsyth Tech will enhance and expand the educational opportunities for Forsyth Tech's Associate in Science specifically in Business Administration and Criminal Justice programs. NC Wesleyan will maintain a full-time Coordinator of Transfer Admission at one of the Forsyth Tech campus sites.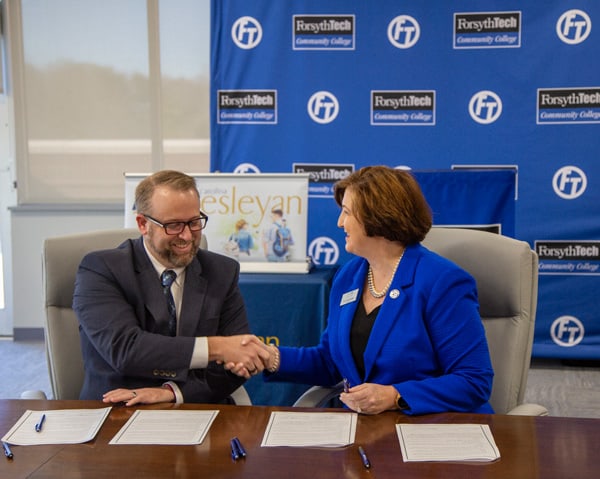 "NCWC has a long history of partnering with NC Community Colleges and we are excited to add FT to our list of partners," said Interim President of NC Wesleyan Dr. Evan D. Duff. "It is collaborations like this that enable students to attain their bachelor's or master's degree without having to leave their family or job."
FT has launched five new co-admission partnerships over the last two years with Bellevue University, North Carolina Agricultural and Technical University, Salem College University of North Carolina – Greensboro and Winston-Salem State University, to improve student access to undergraduate and graduate education. The programs begin enrolling in fall 2019.
North Carolina Wesleyan University, a private institution affiliated with the United Methodist Church, prepares students for professional advancement, life-long learning and responsible participation in their communities. NC Wesleyan University provides a highly personalized education in a dynamic and challenging environment. With students from all over the United States and more than 40 different countries, NC Wesleyan is a small college with a big taste for cultural diversity. Follow NCWC on Facebook, Twitter, LinkedIn and Instagram.
About Forsyth Tech
Forsyth Technical Community College is a catalyst for equitable economic mobility, empowering lives and transforming communities. The college offers associate degrees, diplomas, and certificates in over 200 programs of study, including programs that promote personal and professional development through non-credit courses and seminars, as well as customized training for business and industry. Forsyth Tech serves more than 35,000 students with approximately 1,500 full and part-time faculty and staff. For additional information, visit forsythtech.edu and follow on Facebook, Twitter, LinkedIn and Instagram.