On Monday, August 8, leaders from North Carolina Wesleyan University (NCWU) and Wayne Community College (WCC) met at the Wayne Learning Center Atrium in Goldsboro to sign an Enhanced Institutional Partnership. The two schools have had a partnership agreement in place since 2017, allowing WCC students a seamless transfer to continue their education at NC Wesleyan following completion of their two-year degree at WCC.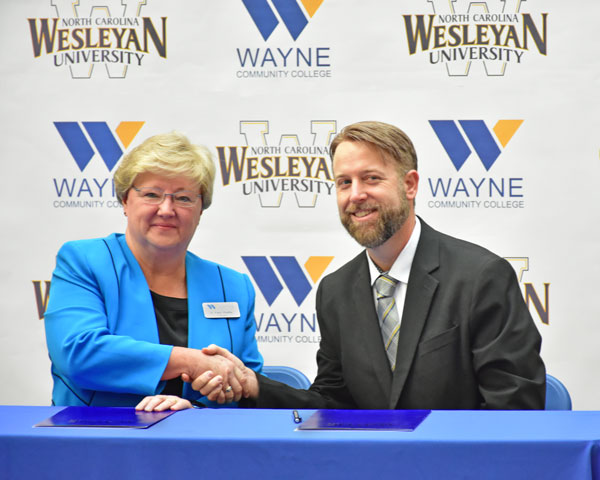 Dr. Patricia A. "Patty" Pfeiffer, President of WCC, and Dr. Evan D. Duff, President of NCWU, signed the enhanced agreement renewing their Wesleyan Works transfer partnership, while also forging a closer-knit relationship between the two institutions. Earlier this summer, NCWU made the decision to relocate their Goldsboro Adult Studies location to the campus of Wayne Community College. This change positively impacts enrollment and will save the University over $1.5M over the next seven years. In addition, the move allows NCWU to have dedicated space on the campus of WCC, offering a more convenient option for students at WCC to pursue a degree from NC Wesleyan.
"NCWU's mission has focused on providing seamless transfer pathways for our NC community college graduates. Through partnerships like this, we can see our vision come to fruition," stated Katie Farrell, Associate Dean of Adult & Professional Studies: Strategy, Partnerships & Assessments. "We are excited to serve our Goldsboro community and Wayne Community College graduates in pursuing their educational goals."
The agreement will enhance and expand the educational opportunities of graduates with an Associate in Arts, Associate in Fine Arts, Associate in Science or Associate in Applied Science. They will be offered access to the benefits of the Wesleyan Works program, pre-admission advising, generous transfer credit and a clear definition of the transfer of courses from WCC to NC Wesleyan. This partnership allows WCC Associate in Applied Science students to transfer an additional 15 hours of general education credits for a total of 75 transfer credits.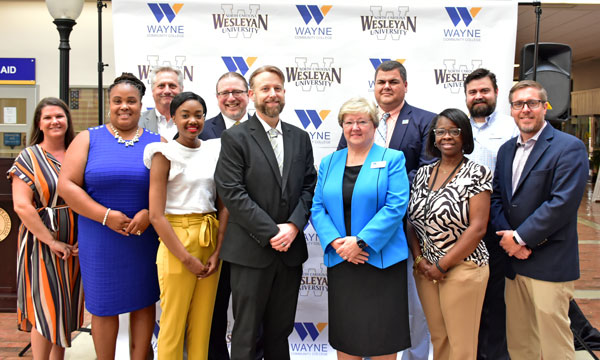 Students who graduate from WCC and transfer under this agreement may select any of NC Wesleyan's programs of study or may transfer to the college's Adult and Professional Studies program, taking advantage of the Wesleyan Works program. Students are required to maintain a minimum GPA of 2.0 and be in good academic standing. The agreement brings NC Wesleyan within the reach of WCC students who may not have otherwise been able to attend the University.
Wesleyan Works is a transfer program designed for community college students who plan to continue their education at NC Wesleyan. Students who participate in Wesleyan Works will have access to academic advising and financial aid counseling through NC Wesleyan, as well as access to events on the University's main campus. The program is ideal for students who would like to attend NC Wesleyan's evening or online programs.
About Wayne Community College
Wayne Community College is a public, learning-centered institution with an open-door admission policy located in Goldsboro, NC As it works to develop a highly skilled and competitive workforce, the college serves 11,000 individuals annually as well as businesses, industry, and community organizations with high quality, affordable, accessible learning opportunities, including more than 140 college credit programs. WCC's mission is to meet the educational, training, and cultural needs of the communities it serves.
About North Carolina Wesleyan University
North Carolina Wesleyan University (NCWU) is a small, private Methodist-affiliated institution with a liberal arts-based core curriculum that prepares students for professional advancement, life-long learning and responsible participation in their communities. NCWU offers liberal arts, professional and graduate degree programs for traditional, transfer and working-adult students. The skills cultivated by faculty and built into the curriculum include critical thinking and reflection, communication, collaboration, and information technology. North Carolina Wesleyan University delivers education that is personal, practical and purpose-driven. Personal…through mentoring and the connections that are provided. Practical…by helping students develop lifelong skills. Purpose-driven…by helping them fulfill their purpose in life. With students from all over the United States and more than 40 different countries, the University has immense cultural diversity. To learn more, visit ncwu.edu and follow on Facebook, Twitter, LinkedIn, TikTok and Instagram.