ROCKY MOUNT, NORTH CAROLINA – After nearly thirty years, The Mims Gallery, located in The Dunn Center at North Carolina Wesleyan University will receive a much-needed facelift. The Mims Foundation recently awarded a grant to the University for a complete renovation of the art gallery named for Allan C. and Margaret L. Mims. A local Nash County businessman, Mr. Mims was one of the founding members of NC Wesleyan nearly 66 years ago.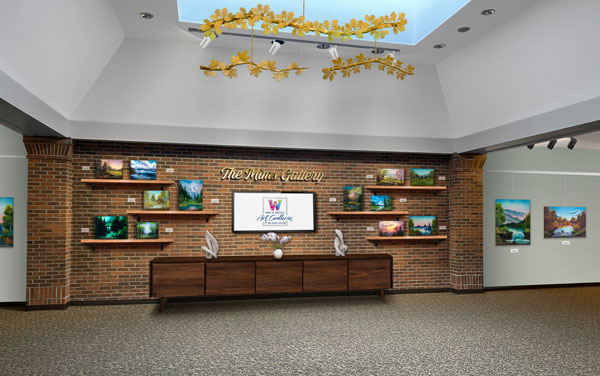 "I'm grateful to Tom Betts, one of our board members, and the representatives of the Mims Foundation Board of Directors for making this renovation possible," stated Dr. Evan D. Duff, NCWU President.
Sheila Martin, Executive Director of The Dunn Center and Greg Purcell, Art Curator, note that this renovation will include the work of local artists, Marilyn Anselmi and Jan Sullivan-Volz. The new shelving will feature wood from the Rocky Mount Mills, circa 1850, as well as a copper mobile hanging from the skylight that depicts the indigenous leaves of North Carolina, a sight sure to marvel visitors.
The Mims Foundation gift is a game changer for the gallery. Work will begin soon, ensuring that the space will be ready for art exhibits previously booked for late 2022 and early 2023. These updates are also timely in that they will transform the area prior to The Mims Gallery welcoming thousands of visitors anticipated for the Fantastic Little Paintings exhibit featuring the work of the late Bob Ross. The Ross collection of 88 paintings will fill The Mims and Gravely Galleries from November 2, 2023 until January 4, 2024.
About The Dunn Center
The Dunn Center is a premier venue for concerts, shows and conferences in eastern NC. Located on the campus of NC Wesleyan University, in the heart of Rocky Mount, The Dunn Center is proud to host the Wesleyan Season Series of cultural events and concerts. In addition to these world-class performances, The Dunn Center features a variety of campus and community events, including Wesleyan Players productions, concerts of the Tar River Swing Band and Orchestra and other various performances by nationally known artists. The Mims and Gravely Galleries, located within The Dunn Center, hosts a variety of exhibits, including paintings, drawings, and sculpture. The galleries are open weekdays from 9:00 a.m. – 5:00 p.m., as well as during performances. To learn more, visit dunncenter.com and follow on Facebook.