ROCKY MOUNT, NORTH CAROLINA – North Carolina Wesleyan University (NCWU) has partnered with Rocky Mount Preparatory School (Rocky Mount Prep) to offer educational opportunities to their employees who are pursuing their Teaching License with NCWU's Teacher Education Program. This opportunity is available to those seeking teacher licensure as a Residency Student, as a bachelor's-only student, those pursuing a second bachelor's degree, or for those seeking tutoring support for licensure exam preparation.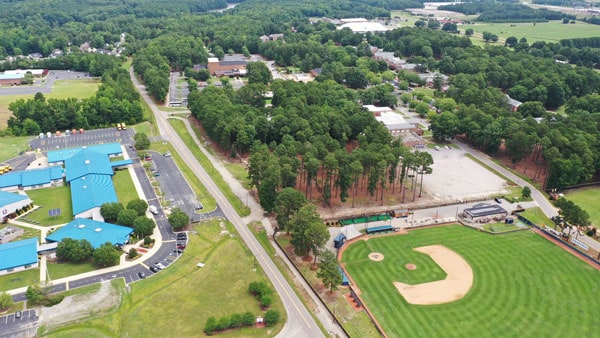 "This partnership with Rocky Mount Prep provides an invaluable opportunity to support our local school systems and the teachers that have a direct impact on future generations," noted Katie Farrell, Associate Dean of Strategy, Partnerships & Assessment at NC Wesleyan. "We have enjoyed witnessing the support the Rocky Mount Prep administrators provide to their teachers and look forward to helping these teachers grow in their profession."
Rocky Mount Prep staff who apply to North Carolina Wesleyan University in pursuit of a degree and/or teacher licensure, must do so via the University's Adult & Professional Studies Program. Those who are accepted will receive a discounted tuition rate through one of two scholarships: a Public Service Scholarship equating to 10% of the total semester tuition or NC Wesleyan alumni will receive a scholarship equivalent to 50% of tuition. In addition, Rocky Mount Prep is supporting their employees' pursuit by offering a $4,000 per year tuition reimbursement.
"We know the importance of having highly-qualified and well-supported teachers in our classroom. We pride ourselves on a strong culture of support for our team members. At Rocky Mount Prep, we have an amazing team that serves diligently every day and shares invaluable experiences with our scholars in support of their academic attainment," said Dr. Chaunte Garrett, Rocky Mount Prep Superintendent. "We are delighted to partner with NCWU to support the teacher development pipeline in this region and to offer our current team members, and any new team members who want to become highly-qualified teachers, the opportunity to do so. It is a win for Rocky Mount Prep and NCWU, but most importantly it will have a great impact on our region."
North Carolina Wesleyan University's Teacher Education Program will provide exclusive tutoring assistance at a rate of $35 per hour for Rocky Mount Prep staff. Tutoring services will be provided face-to-face or virtually via a third party or by NCWU Teacher Education faculty.
In addition, Rocky Mount Prep will promote the partnership to all staff and provide the option for NCWU Teacher Education students to gain practical training experience and observe live classes. Dr. Garrett mentioned that "Team Rocky Mount Prep is a diverse family of educators with several of our teachers scoring in the top 25% of teachers in the state in scholar academic growth. We are glad to share this wealth of knowledge with future educators."
"This seamless partnership provides a wonderful opportunity to enlarge the pool of licensed and highly-qualified teachers to educate North Carolina's K-12 students," stated Dr. Kelvin Spragley, NCWU's Director of Teacher Education.
During their time observing live classes and teaching techniques at Rocky Mount Prep, NC Wesleyan's Teacher Education students will also have the chance to be trained as North Carolina Education Corps tutors for Rocky Mount Prep. North Carolina Education Corps partners with local public school units to recruit, train, and support corps members to accelerate learning and provide support for students. Corps members are employed by schools to work part-time as high-impact literacy tutors grounded in the science of reading and reading instruction.

About Rocky Mount Prep
Rocky Mount Prep is a tuition-free public charter school. Rocky Mount Prep educates scholars from Kindergarten to 12th grade from school districts across the Eastern North Carolina Region. Our instructional model serves the whole child in alignment with our mission "to educate, equip, and empower each scholar to excel." The school is accepting applications for enrollment for the 2022-2023 school year. To learn more, visit rmprep.org.
About North Carolina Wesleyan University
North Carolina Wesleyan University (NCWU) is a small, private Methodist-affiliated institution with a liberal arts-based core curriculum that prepares students for professional advancement, life-long learning and responsible participation in their communities. NCWU offers liberal arts, professional and graduate degree programs for traditional, transfer and working-adult students. The skills cultivated by faculty and built into the curriculum include critical thinking and reflection, communication, collaboration, and information technology. North Carolina Wesleyan University delivers education that is personal, practical and purpose-driven. Personal…through mentoring and the connections that are provided. Practical…by helping students develop lifelong skills. Purpose-driven…by helping them fulfill their purpose in life. With students from all over the United States and more than 40 different countries, the University has immense cultural diversity. To learn more, visit ncwu.edu and follow on Facebook, Twitter, LinkedIn, TikTok and Instagram.