ROCKY MOUNT, NORTH CAROLINA – On Monday, September 12, U.S. News & World Report released their 2022-2023 Best Colleges rankings. This report evaluates 1,500 colleges and universities nationwide based on 17 measures of academic quality. Of the reports, North Carolina Wesleyan University was ranked in the Regional Colleges (South) categories of Best Colleges for Veterans, Best Value Schools, Best Regional Colleges, Social Mobility, Most International Students and Campus Ethnic Diversity.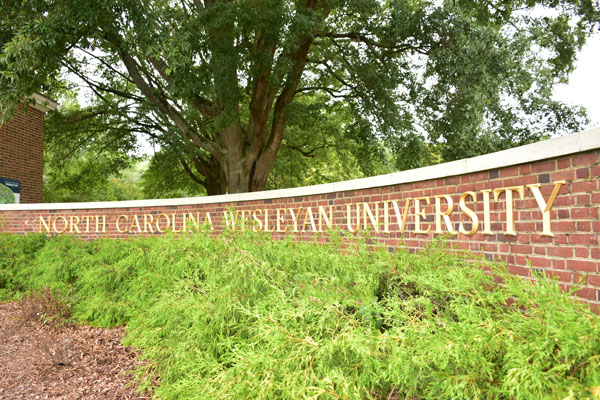 Again, NC Wesleyan has been ranked in the top 50 for Best Regional Colleges, coming in at #47 of 99 schools. Also, NCWU was once more recognized as a Best Value School and was one of only 12 schools chosen as Best Colleges for Veterans. This ranking pairs well with the University's 2022-2023 Military Friendly® School Gold designation.
"Our dedication to our students, and to the communities we serve, is reflected in this year's rankings by U.S. News & World Report. I'm proud of the work that NCWU does to ensure a quality education through meaningful, real-world experiences," stated President Dr. Evan D. Duff.
Other notable rankings include recognition in the Social Mobility category, which considers a university enrolling and graduating large proportions of first-generation college students and disadvantaged students who are awarded with Pell Grants. The vast mix of cultures that make up NCWU's student population is reflected in this year's ranking for Campus Ethnic Diversity. Only six colleges and university's in North Carolina made the list of 82 that were ranked. With students from over 40 different countries, NC Wesleyan was the only school in North Carolina be recognized for Most International Students. To learn more about this year's U.S. News & World Report rankings, visit usnews.com/college.

About U.S. News & World Report
U.S. News & World Report is the global leader in quality rankings that empower consumers, business leaders and policy officials to make better, more informed decisions about important issues affecting their lives and communities. A multifaceted digital media company with Education, Health, Money, Travel, Cars, Real Estate, News and 360 Reviews platforms, U.S. News provides rankings, independent reporting, data journalism, consumer advice and U.S. News Live events. More than 40 million people visit USNews.com each month for research and guidance. Founded in 1933, U.S. News is headquartered in Washington, D.C.
About North Carolina Wesleyan University
North Carolina Wesleyan University (NCWU) is a small, private Methodist-affiliated institution with a liberal arts-based core curriculum that prepares students for professional advancement, life-long learning and responsible participation in their communities. NCWU offers liberal arts, professional and graduate degree programs for traditional, transfer and working-adult students. The skills cultivated by faculty and built into the curriculum include critical thinking and reflection, communication, collaboration, and information technology. North Carolina Wesleyan University delivers education that is personal, practical and purpose-driven. Personal…through mentoring and the connections that are provided. Practical…by helping students develop lifelong skills. Purpose-driven…by helping them fulfill their purpose in life. With students from all over the United States and more than 40 different countries, the University has immense cultural diversity. To learn more, visit ncwu.edu and follow on Facebook, Twitter, LinkedIn, TikTok and Instagram.