ROCKY MOUNT, NORTH CAROLINA – While many college students spend their spring breaks traveling or visiting their favorite beach, several students at NC Wesleyan took the time to learn about career development. The College's Office of Career Development & Leadership organized an opportunity for a small group of NCWC juniors to visit Grover Gaming in Greenville, NC. On Tuesday, March 8 and Wednesday, March 9, these students were exposed to many aspects of the organization's business, including their game development studio. Grover Gaming's Greenville location is home to game developers, 3D artists, release QA testers, research and development engineers, and several other teams.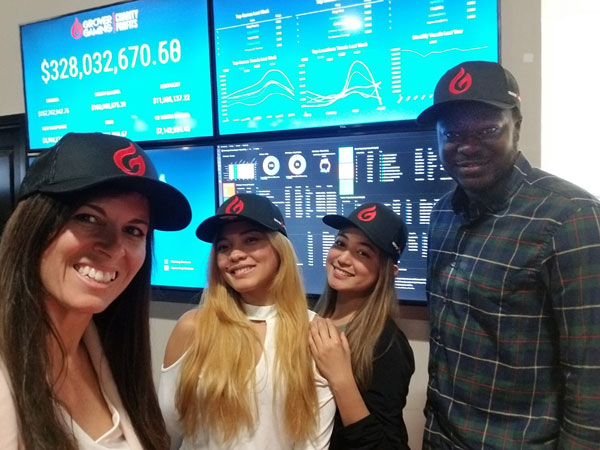 All students who participated are Computer Information Systems majors. They were able to learn about the mission, vision and values within the company, benefits of full-time positions and the intersection of various departments. As an added bonus, each student received a professional headshot taken by Grover Gaming.
"When I heard Grover's president, Garrett Blackwelder, discuss the meaning behind the company name being rooted in the concept of growth, I knew I had brought our students to a great place for a developmental experience. Mr. Blackwelder genuinely explained that "Grover" was selected to reflect his vision for the organization to "grow over and over" in the game development industry and also for his entire team to continually grow professionally and personally," stated Jessie Langley, Associate Dean of Career Development & Leadership at NC Wesleyan. "Our visit confirmed this as I found the Grover culture to be intoxicatingly warm while also laser-focused on the company's goals."
Ki Vera Pardillo, one of the NCWC students who took part in this opportunity, witnessed how her training in the classroom could apply to a full-time career after college. She states: "I got to see a real-life setting for the development processes of gaming software ranging from graphic design to the deployment of their products. I was also able to ask software developers and programmers which methods and development tools they use to create the programs, as well as how they improve their products to have a competitive advantage."
Langley hopes to continue facilitating future visits to Grover Gaming so that additional students can learn specifically about the game development side of the business.
About Grover Gaming
Founded in Greenville, NC, Grover Gaming is a software development and design company with offices and distribution facilities in 9 different states that specializes in electronic gaming throughout the US and Canada. Grover Gaming has evolved from a small gaming route started by founder Garrett Blackwelder in 2003, to a company of over 350 talented employees, focused on building a strong foundation of humble, passionate people, effective processes, and superior products. That vision continues, thanks to our growing team of dedicated employees and their desire to create innovative and entertaining gaming experiences for an ever-changing industry. Grover Gaming is a multiyear recipient of Inc Magazine's prestigious Inc 5000 award, ranking #194 in 2020.