Health Guidelines & COVID-19 Responses
2023 Campus Update
Wednesday, September 7, 2023
A Message from the Viral Illness Response Team
Due to increasing viral illnesses in the community, we RECOMMEND that students, faculty, staff and anyone visiting mask while on campus when within six feet of others through September 22nd.
Please note that students are expected to follow all instructions for isolation and masking if directed by the University Health Center.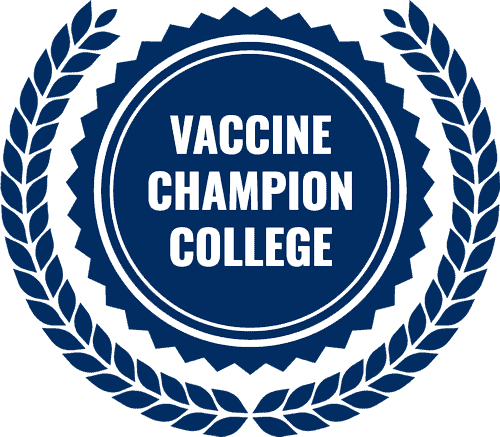 Mask Policy
General Questions
Students should contact Jessica Brys-Wilson, Physician Assistant, at the Health Center by calling 252.985.5186 or via email at jbrys-wilson@ncwu.edu. with any questions regarding NC Wesleyan's response to the Coronavirus. While classes are in session she will be on campus Monday through Friday from 9:00 a.m. – 4:00 p.m. to provide acute care and health education free of charge to the students, staff, and faculty of NCWU.
For your own health and that of those in your community, NC Wesleyan University strongly recommends that everyone follow the "Your Health" COVID-19 guidance from the Centers for Disease Control and Prevention (CDC). This guidance includes recommendations regarding what to do if you are feeling sick and guidance regarding quarantine and isolation, links to which are found below.
Feeling Sick?
Quarantine & Isolation
FAQs
Q: Are who test positive for COVID-19 sent home or quarantined on campus?
A: Students who have not been vaccinated and boosted against COVID-19 will need to leave campus immediately upon receiving a positive test result. Students who are fully vaccinated and boosted and less than 200 miles from campus will need to leave campus immediately to quarantine. Fully vaccinated and boosted students who live farther than 200 miles from campus may be offered a quarantine room at an off-campus hotel if one is available.
Q: How is contact tracing being conducted?
A: Contact tracing is conducted by our Certified Physician Assistant.
Q: Are students who come in close contact with an infected student being notified?
A: Yes. Our PA reaches out to all reported direct contacts.
Q: Are students who were in close contact also required to quarantine as a precaution?
A: At this time, direct contacts are required to wear a mask anytime they are around others and have a test performed on day 5 after exposure, or sooner if they develop symptoms. They are not required to quarantine unless they test positive.
Q: Are classrooms and other public facilities being sanitized regularly?
A: Classrooms are cleaned a minimum of once per day and sometimes twice per day. Also, students are required to wipe down their desks with disinfectant wipes before and after class. The College uses the Clorox Total 360 System, an electrostatic sprayer, to clean classrooms with surfaces being wiped down as well. For extra precaution, all classrooms have air purifiers in them and many classrooms are outfitted with window fans to blow air outside of the classroom.
Previous COVID-19 Updates
Effective 5/1/22 at 5 pm, the university recommends a mask optional policy for students, employees, and visitors. Unvaccinated individuals can continue to wear masks when they are unable to socially distance themselves and it is optional for college employees to wear masks in their classes or in their offices. The University plans to have a […]