ROCKY MOUNT, NORTH CAROLINA – North Carolina Wesleyan University has submitted the substantive change application for its new Master of Public Health* and Certificate of Graduate Study in Public Health programs to its regional accreditor, the Southern Association of Colleges and Schools Commission on Colleges (SACSCOC).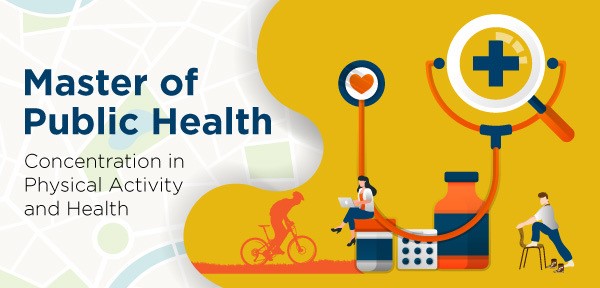 The 100% online Master of Public Health* program, with a concentration in Physical Activity and Health, will equip graduate students with the knowledge and skills to incorporate physical activity into the core of public health practice in order to improve the health of individuals, communities and populations. It is comprised of 42 graduate-level credit hours, including 20 hours of core public health courses, 15 hours of concentration-specific courses, and 7 hours of experiential and integrated learning courses. Students will learn from world-renowned and accomplished faculty that mentor them through the latest research and practical applications in public health.
"We are excited to add our third graduate program, the Master of Public Health (MPH), and our first certificate of graduate study (Public Health) at NCWU. Wesleyan will be the first in the state of North Carolina to offer an MPH with an emphasis in physical activity and health," stated Dr. Shannon Crowley, Associate Professor of Exercise Science and MPH Program Director. "Students in the program will learn the foundational concepts of public health, in addition to gaining the knowledge and skills necessary to integrate the health-promoting concepts of physical activity into public health programs, interventions and policies. Considering that physical inactivity is one of the leading risk factors for chronic disease, this program is uniquely poised to equip future public health professionals with the tools necessary to make significant positive impacts on the health of their communities."
A major focus of the program is to connect students to practical, hands-on experiences in public health by working directly with community partners. In this manner, students have the opportunity to apply the knowledge and skills gained in their MPH courses to real-world public health practice, while simultaneously helping to improve the health of their communities. During the MPH program, students will complete their public health practicum in one of a variety of public health-related sites such as community centers, parks and recreation departments, government and nonprofit organizations, grass-roots organizations, public health research, university wellness centers, large healthcare systems and schools.
Through the institution's Integrated 4+1 MPH program, undergraduate students from North Carolina Wesleyan University can graduate with both a bachelor's degree and a Master of Public Health degree in only five years. The integrated 4+1 MPH option is intended for highly motivated undergraduate students interested in pursuing an MPH degree after their undergraduate program. Students also save on tuition because they pay the undergraduate tuition rate for the first year of the MPH program. Students must apply to the integrated 4+1 MPH program during the Junior year of their undergraduate degree at NCWU and have a minimum cumulative GPA of 3.0 at the time of application.
The University will also offer a Certificate of Graduate Study in Public Health. This certificate provides students with an opportunity to broaden their understanding of public health, supplement another degree, enhance their current professional or clinical skills, or prepare for further graduate study. While the certificate program can be completed in two semesters, students have three years from the start of the program to finish.
For more information, visit ncwu.edu/master-of-public-health or contact the Office of Adult Studies, at adultstudies@ncwu.edu.
About North Carolina Wesleyan University
North Carolina Wesleyan University (NCWU) is a small, private Methodist-affiliated institution with a liberal arts-based core curriculum that prepares students for professional advancement, life-long learning and responsible participation in their communities. NCWU offers liberal arts, professional and graduate degree programs for traditional, transfer and working-adult students. The skills cultivated by faculty and built into the curriculum include critical thinking and reflection, communication, collaboration, and information technology. North Carolina Wesleyan University delivers education that is personal, practical and purpose-driven. Personal…through mentoring and the connections that are provided. Practical…by helping students develop lifelong skills. Purpose-driven…by helping them fulfill their purpose in life. With students from all over the United States and more than 40 different countries, the University has immense cultural diversity. To learn more, visit ncwu.edu and follow on Facebook, Twitter, LinkedIn, TikTok and Instagram.