ROCKY MOUNT, NORTH CAROLINA – On Saturday, December 5, North Carolina Wesleyan University held its Winter Commencement for 195 graduates on the front lawn of campus. This was the College's 80th graduation, with the first occurring in 1964.
The closed event was open only to graduates, faculty and the platform party to allow the College to ensure physical distance and the safety of those participating. Masks were provided to all graduates and each participant was required to wear their mask at all times during this outdoor event. There were 18 international graduates from nine countries: Argentina, Cambodia, Venezuela, United Kingdom, Nepal, Italy, France, Japan and Mexico. This commencement also included the first cohort of Wesleyan's new Master's in Business Administration (MBA) program, with 22 students graduating. NCWC's MBA Program began its first cohort in January 2020. The one-year program is 100% online and consists of five eight-week sessions, two classes per session and ends with a final capstone course.
"It is always invigorating to see our students bring their hard work, dedication and learning from Wesleyan to fruition through our commencement exercises. We persevered through one of the most challenging years of our lives and we did it by supporting each other. Commencement is an essential process that fulfills the instructional mission of the College," stated President Dr. Evan D. Duff.
Alumna, Ms. Latisha Scott '06, performed the Star-Spangled Banner followed by a baccalaureate message from College Chaplain, Rev. Dr. Barry Drum. In his message, Dr. Drum encouraged students to use their critical thinking skills in their everyday life, challenging them to "think critically, but believe passionately."
The commencement address was given by Ms. Sharon Lawrence. Lawrence is an award-winning actress with roles on NYPD Blue, the Dynasty reboot, and can most recently be seen opposite Kirsten Dunst in Showtime's On Becoming a God in Central Florida. She also appears on several different television series, including: Shameless, Criminal Minds, Grey's Anatomy, the CBS comedy, "Me, Myself and I," and the Apple + series Home Before Dark. A native of North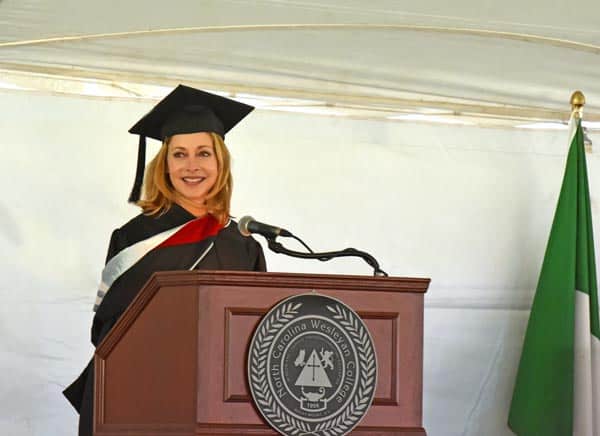 Carolina, she was born in Charlotte and later moved to Raleigh where she graduated from Broughton High School. Lawrence attended the University of North Carolina at Chapel Hill, graduating in 1983 with a Bachelor of Arts in Journalism.
Lawrence addressed the graduates, stating: "I learned from my family that education and determination are important. I've learned how empowering it is to give back and I hope that you honor and cherish input from your friends and family, that you keep learning every day and you have big goals and dreams and serve others." She went on to encourage them by saying "There is so much more ahead for all of us and I look forward to seeing where you, the distinguished Class of 2020, will go and how North Carolina Wesleyan continues to grow."
The event was live streamed and recorded so family and friends could celebrate with their students virtually. Photographs of the event can be found HERE.