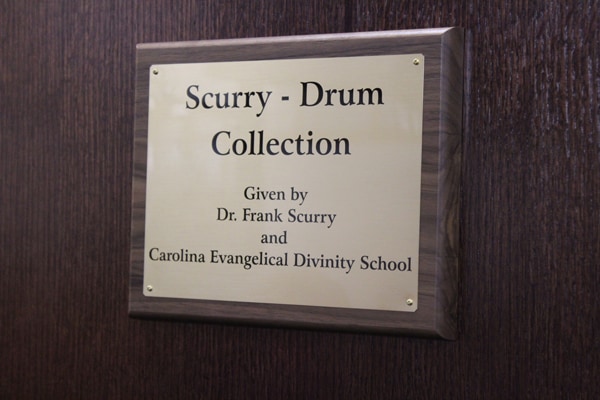 ROCKY MOUNT, NORTH CAROLINA – North Carolina Wesleyan University recently procured a substantial theological library collection from the family of the late Rev. Dr. Frank Scurry. Dr. Scurry was president emeritus of the now defunct Carolina Graduate School of Divinity, an accredited interdenominational seminary located in Greensboro, NC.
Dr. Scurry pastored in the NC Yearly Meeting of Friends for 25 years before starting and leading Carolina Graduate School of Divinity in 1994. Upon closure of the institution, he sought to sell the collection of roughly 25,000 books. Consistent with the interdenominational mission of the Carolina Graduate School of Divinity, the collection contains approximately 17,000 volumes and represents a broad, balanced perspective on church history, theology, pastoral ministry, biblical studies and ethics. The large volume of books is estimated to be worth over $500,000 and will be housed in the Elizabeth Braswell Pearsall Library in custom-made cherry shelving, also donated with the books.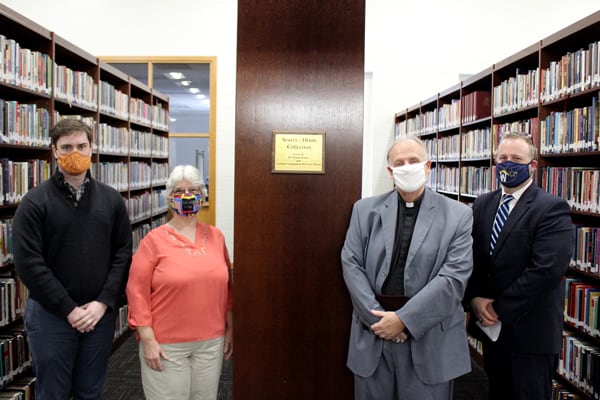 Rev. Dr. Hugh Hoyle, a Carolina Graduate School of Divinity alum, and wife, Lois Hoyle, the former librarian, connected five years ago with NC Wesleyan's Chaplain, Rev. Dr. Barry Drum, about Wesleyan's possible purchase of the collection. Dr. Drum, in conjunction with the Hoyles and Dr. Scurry, secured the donation during the summer of 2019 with the help of NC Wesleyan's Advancement Office and Administration. The collection will increase the overall number of volumes in Wesleyan's library by almost 25 percent.
"This generous gift from Dr. Scurry and the Carolina Graduate School of Divinity will strengthen NC Wesleyan's commitment to theology as a primary pillar of liberal arts education.  All Wesleyan students are required to take introductory general education courses in Religious Studies, as well as related classes in ethics. This collection broadens the relevant resources available to both students and faculty," stated Rev. Dr. Barry Drum.
The collection enhances Wesleyan's future endeavors to expand their Religious Studies program in studies of the Bible, church history, theology and ethics.
Dr. Scurry's wife, Virginia Scurry, and their son, David Scurry, were recognized at a dedication on December 5 in Wesleyan's Pearsall Library.