ROCKY MOUNT, N.C. – NC Wesleyan University Director of Athletics, Aaron Denton has announced assistant men's soccer coach Meir Lewin has been promoted to the head men's soccer position for the Battling Bishops in the 2019-20 season.
Lewin is replacing the departing Frankie Taal, who went back to his alma mater at Bethany College (WV) to become the head coach after 9 stellar seasons as the head soccer coach at Wesleyan including two USA South regular season titles and one conference tournament crown with a trip to the 2017 NCAA tournament.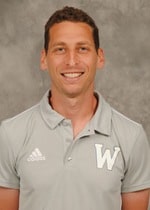 Lewin spent one season as Taal's assistant coach and helped lead the team to a 9-7-1 record and 8-3-1 in the USA South along with a conference semifinal berth.
"I am very excited to have Meir as our new men's soccer coach," said Denton. "Meir has a unique set of experiences as a player, coach and education professional which will serve him well at Wesleyan and in the DIII setting. He is committed to our student-athletes as well as building on the storied success of our men's soccer program."
"It is an honor to be named the head coach of NC Wesleyan men's soccer. I would like to thank our president, Dr. Clark, and our athletic director, Mr. Denton for entrusting me with the responsibility of leading this program. Additionally, I would like to thank Frankie Taal for everything he has done in building such a strong foundation here," commented Lewin.
Lewin comes to Wesleyan after most recently serving as the assistant coach at Mary Washington University (VA) while he was also the assistant for two seasons at Washington College in Maryland from 2012-2014. While at Washington College, Lewin coached 4 Centennial All-Conference award winners and 6 honor roll members.
He was also a former scout for the Israeli Football Association National Team. Lewin played professionally in Israel serving as the team captain from 2007-11 starting 72 games and being named to the league-best-11 in 2009-10 as well.
Lewin was also a teaching assistant and Instructor in the Department of Kinesiology at the University of Maryland since 2014. He will serve as an adjunct English faculty at Wesleyan this Fall.
Lewin graduated with a B.A. in Government in 2011 from the Interdisciplinary Center of Herzliya, Israel. He also completed his Masters in English from Washington College in 2014. He is currently pursuing his Ph.D in Kinesiology and Physical Cultural Studies from the Univ. of Maryland.