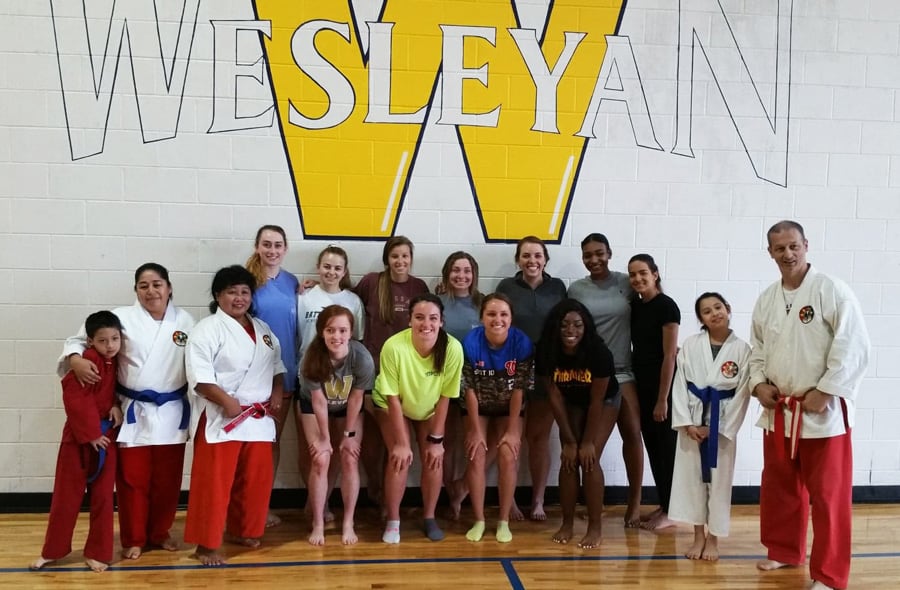 ROCKY MOUNT, NORTH CAROLINA – As part of Wesleyan's continued efforts to increase security on campus, the College recently started offering women's self-defense classes. College security personnel patrols the campus 24 hours a day and the Rocky Mount Police Department on the evenings and weekends; however, the safety of students off-campus and for commuters is also imperative.
Though Wesleyan cannot prevent off-campus attacks, they hope to give students the tools to be self-reliant and to prioritize their safety. Prior to the end of the semester, the College partnered with Kuntaw Legacy International Martial Arts Academy holding two well-attended sessions in May. Those in attendance were taught key self-defense tactics they can utilize to protect themselves in an unsafe predicament.
Safety is a top priority to NC Wesleyan faculty and staff. In the past few years, Wesleyan has beefed up on-campus security features through Eddie and Allison Smith Foundation grants and crime has continued to remain low. In addition to adding self-defense classes, Wesleyan provides sexual assault and domestic violence seminars and has sent out anonymous surveys to foster open communication with students about any concerns. Additional emergency blue light 911 call boxes and video surveillance cameras have also been installed in the past year.
Feedback regarding the value of the self defense program was very positive from those in attendance. One student, Natalie Larson, has also stepped forward to seek funding from her non-profit organization, Brace Change, to ensure the program can be a monthly fixture on campus next year.
"The opportunity to bring self-defense classes to NCWC is another positive step in keeping our students safe. We plan on continuing this and other similar components in the fall semester," stated Wayne Sears, Director of Security at NC Wesleyan.

Kuntaw Legacy International Martial Arts is a training facility owned by William and Alicia Kossmann in Wilson, NC. William is a seventh degree black belt in the art of Kuntaw, an international champion and a multiple gold medalist of the NC State Games. Alicia is a ninth degree red belt with over 45 years of experience in Kuntaw Legacy martial arts, as well as a multiple gold medalist of the NC State Games.