ROCKY MOUNT, NORTH CAROLINA – Recent Wesleyan graduate, Abigail Wooten, began studying at Nash Community College as a dually enrolled student taking classes through their Career and College Promise program during her junior and senior years of high school.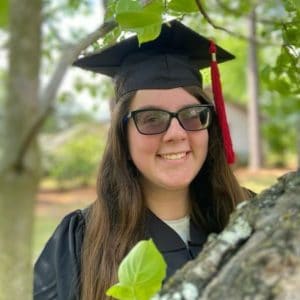 At NCC, Wooten was a member of the National Society of Leadership and Success and Phi Theta Kappa Honor Society. She graduated from Nash in 2018 with Associate in Arts and Associate in Science degrees, with highest honors.
Wooten said that although it can be intimidating for students to speak up when they do not understand something, it is important to do so. "If you put in the time and ask for help when you need it, you will succeed, not just at Nash, but out in the world as well."
Following graduation from NCC, Wooten transferred to North Carolina Wesleyan University. She graduated last month with a Bachelor of Science in Mathematics and a minor in Computer Information Systems, with highest honors. "I believe Nash helped prepare me for my journey at NCWC by instilling a strong work ethic in me. By the time I got to NCWC, I had already learned how to stay on top of assignment deadlines and how to ask professors for help when I needed it, two skills I consider essential."
While attending NCWC, Wooten worked several part-time jobs, including tutoring at NCC. "This didn't leave much time for clubs and activities at school," she said. "However, I transferred my membership to the local chapter of the National Society of Leadership and Success, an organization I originally joined at Nash. I was able to attend speaker events and fundraisers with them. I also volunteered for community service projects."
Wooten currently serves as a tutor in the NCC Mathematics Department. She plans to continue working with developmental math students, providing the support for foundational learning they need to become mathematicians.
She has been accepted into East Carolina University's Master of Arts in Mathematics program and will begin this fall. "I hope to teach math full-time at Nash. The math department was instrumental in making me and so many others into the people we are today, and I want to continue that tradition."
Through the Career & College Promise program, qualified high-school-age students have the opportunity to begin their college education, tuition free. Interested students should meet with their high school counselor or home school principal. Enrollment is open for NCC's online summer classes. Summer semester begins May 26. For more information, visit nashcc.edu/registration or call 252.451.8235.
Students who are currently enrolled in NCC's Career & College Promise program with 12 or more credit hours and are interested in transferring to NC Wesleyan should contact Jason Letchworth, Transfer Admissions Counselor, at jletchworth@ncwu.edu for more information. Those with less than 12 credit hours can apply for regular admission at ncwu.edu/apply-for-admission and one of Wesleyan's Admission Counselors will assist you each step of the way.