ROCKY MOUNT, NORTH CAROLINA – Friday, March 24 mark your calendar and plan to join NC Wesleyan University in the Bishop Fan Zone at 5:00 p.m. for an evening full of music, food trucks, inflatables and baseball! Stay as NCWU flips the switch on the brand-new lights at Bauer Field, and meet the donors who made it all happen, as NCWU recognizes them during a dedication at the 6:00 p.m. game against Southern Virginia University. The event is open to the public and game admission is free.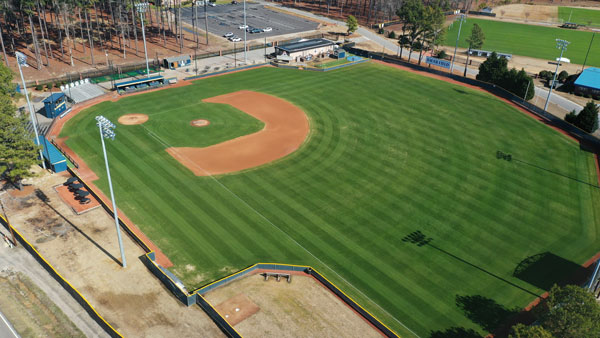 The installation of eight new light poles was completely donor-funded, with over forty individuals helping make the lights a reality. Lloyd '67 and Elliott '66 Nelson, along with Joe Shearin '78 and Sam Daniels, helped kickstart the project. A major catalyst to the overall success of the campaign was John Alden's '64 substantial matching gift. Finally, an anonymous gift in honor of former pitcher Jim Pittman '92 significantly moved the needle, pushing the "Flip the Switch" fundraising campaign to exceed its goal.
When asked about the impact of the new lights, Head Baseball Coach Greg Clifton stated, "To be able to schedule practices and games without worrying about daylight is a game changer for the program. It has been a dream of many baseball alumni for years and to see them up now is truly amazing. I cannot wait to see the stands full during our night game against Southern Virginia!"
The lights not only improve NCWU's baseball team's ability to schedule practices and games later in the evening, but it also benefits them academically. In the past, student-athletes have had to miss afternoon classes for travel and games. They have also had to schedule practices during daylight hours, which becomes even earlier during standard time. The new addition allows the University to also use Bauer Field for hosting regional baseball tournaments.
About North Carolina Wesleyan University
North Carolina Wesleyan University (NCWU) is a small, private Methodist-affiliated institution with a liberal arts-based core curriculum that prepares students for professional advancement, life-long learning and responsible participation in their communities. NCWU offers liberal arts, professional and graduate degree programs for traditional, transfer and working-adult students. The skills cultivated by faculty and built into the curriculum include critical thinking and reflection, communication, collaboration, and information technology. North Carolina Wesleyan University delivers education that is personal, practical and purpose-driven. Personal…through mentoring and the connections that are provided. Practical…by helping students develop lifelong skills. Purpose-driven…by helping them fulfill their purpose in life. With students from all over the United States and more than 40 different countries, the University has immense cultural diversity. To learn more, visit ncwu.edu and follow on Facebook, Twitter, LinkedIn, TikTok and Instagram.