Sigma Alpha Pi, North Carolina Wesleyan University's chapter of the National Society of Leadership & Success (NSLS) hosted its sixth induction of student leaders into the organization. The ceremony was held Tuesday, November 29 at 3:00 p.m. in the Garner Lobby of The Dunn Center. The NSLS is the nation's largest leadership honor society, with more than 700 chapters and over 1.2 million members.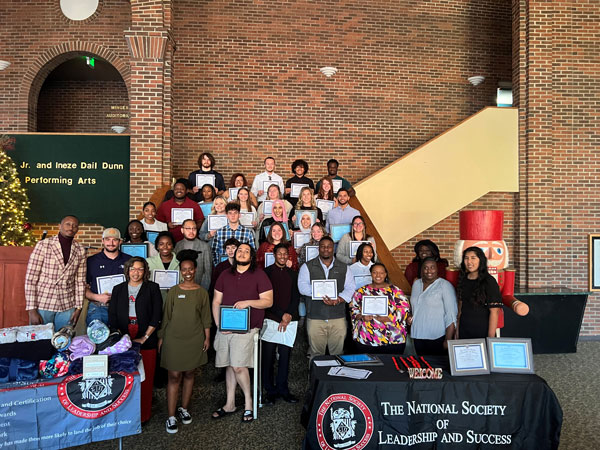 NCWU's chapter seeks to foster personal reflection, goal setting and leadership development amongst its members. The goal this fall focused on helping as many of the students who joined at the start of the semester through completion of the national requirements to become fully-inducted members.
"I'm proud of this group of students and their dedication to professional development. Their commitment is evident in the fact that our NSLS chapter continues to exceed the national chapter induction rate," stated Tanisha Reed, Chapter Advisor and Interim Director of Career Development & Leadership. "Our student leaders have been able to overcome obstacles, increase their confidence, empower their goal setting and choose a career path throughout this process."
With a 66.1% induction rate, NC Wesleyan's NSLS chapter is exceeding the national chapter goal by over 35%. As part of the program's community service efforts this season, attendees were encouraged to bring new or gently used blankets and socks that will be donated to United Community Ministries for distribution to their participants during the cold months ahead.
T.J. Walker, Rocky Mount Ward 4 Councilman and Mayor Pro-Tem, served as the celebration's keynote speaker. Walker encouraged the inductees to define success for themselves, be confident and give their all to everything that they do.
In order to achieve induction, members must attend Orientation, Leadership Training Day, three Speaker Broadcasts and three Success Networking Team meetings. Students are selected by their school for membership based on academic standing or leadership potential. Candidacy is a nationally recognized achievement of honorable distinction. To learn more about the National Society for Leadership & Success, visit nsls.org.
About North Carolina Wesleyan University
North Carolina Wesleyan University (NCWU) is a small, private Methodist-affiliated institution with a liberal arts-based core curriculum that prepares students for professional advancement, life-long learning and responsible participation in their communities. NCWU offers liberal arts, professional and graduate degree programs for traditional, transfer and working-adult students. The skills cultivated by faculty and built into the curriculum include critical thinking and reflection, communication, collaboration, and information technology. North Carolina Wesleyan University delivers education that is personal, practical and purpose-driven. Personal…through mentoring and the connections that are provided. Practical…by helping students develop lifelong skills. Purpose-driven…by helping them fulfill their purpose in life. With students from all over the United States and more than 40 different countries, the University has immense cultural diversity. To learn more, visit ncwu.edu and follow on Facebook, Twitter, LinkedIn, TikTok and Instagram.