ROCKY MOUNT, NORTH CAROLINA – North Carolina Wesleyan University has developed a new Corporate Adoption Program (CAP) to enhance the career readiness skills of NCWC students. This program will provide students with direct exposure to professional work settings and contacts. Envolve Benefit Options, which has a corporate office at the Rocky Mount Mills campus, was chosen as the College's first partner.
Five Wesleyan students were selected to participate in the inaugural program with Envolve. A meeting was held at NCWC with students and representatives from the company in September and students engaged in a full-day learning experience in early October on the Rocky Mount Mills campus.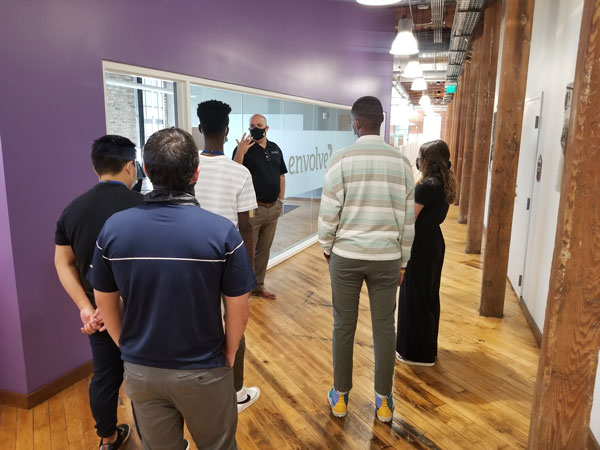 "Envolve Benefit Options vision operations started in Rocky Mount over 25 years ago and are proud to call Rocky Mount home. This partnership with NCWC allows Envolve to contribute more in community development with hopes that North Carolina Wesleyan students gain experience to become part of Rocky Mount's growth," stated Envolve Benefit Options Chief Operations Officer, Michael Grover.
Eligible students are juniors and seniors with a 2.5 GPA or higher and a major applicable to the partner's industry and project at hand. Those accepted are assigned to a CAP team that includes five-to-ten students, one faculty mentor and one corporate partner. The Envolve partnership consist of students majoring in Accounting, Business, Communications, Computer Information Systems or Marketing.
When students apply to be a part of CAP, they are making a commitment to participate in the following:
Intentional growth in career readiness skills 
Monthly group meetings for the entire academic year
Meetings with their assigned CAP group and Faculty Advisor as needed
Job-shadowing/mentoring on-site with the Corporate Partner for at least one day during Fall Break and a minimum of two days during Spring Break 
Participating and presenting on a assigned corporate project with their CAP team during the spring semester
"It has been a joy seeing Envolve fully embrace our students and expose them to many aspects of their operations. I look forward to witnessing the learning outcomes through the corporate project these students will address in the coming months," stated Jessie Langley, Associate Dean of Career Development & Leadership at NC Wesleyan. "As we continue to grow our Corporate Adoption Program, I expect it will be a significant highlight for our students when they later reflect on their college experience."
Rocky Mount-based corporations for future CAP partnerships will be selected based on the organizations' expressed genuine interest in investing in the growth and development of a team of NCWC students and willingness to designate an internal CAP program manager. The CAP program manager will host workshops and meetings led by corporate speakers, while also maintaining ongoing communication with CAP students, faculty and staff. In addition, CAP partners are encouraged to offer paid summer internships to NCWC students in the program. Local organizations that are interested in partnering with North Carolina Wesleyan University's CAP program can contact Jessie Langley at jlangley@ncwu.edu or 252.985.5177.