ROCKY MOUNT, NORTH CAROLINA – On June 20, 2019, a sudden and severe storm hit NC Wesleyan University causing damage to the Vernon T. Bradley Sports Complex. It was later confirmed by the National Weather Service that the damage was caused by straight-line winds. The College was fortunate that the damage was isolated to the sports fields and that no person or building was harmed. Now, the College is bouncing back and rebuilding better than ever.
The storm resulted in approximately $250,000 of damages, including significant destruction to Edge softball field, the most prevalent being downed fencing, damaged bleachers, a torn down scoreboard and the home field dugout was destroyed. Other areas of campus, such as the Bauer baseball field and Vernon T. Bradley practice football field, also sustained fence damage. Approximately ninety-two trees were broken off or down in the woods bordering Thomas A. Betts Parkway. That day, many from the Wesleyan family quickly poured in and assisted in removing debris, gathering equipment and collecting field maintenance gear from the damaged softball storage house adjacent to the field.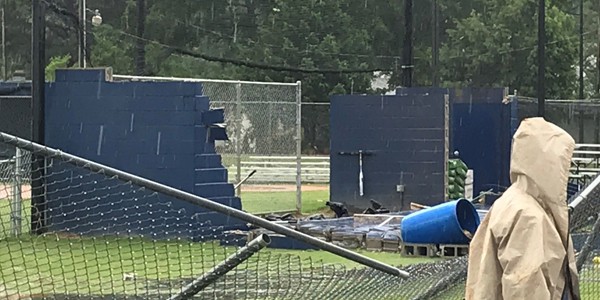 A substantial portion of the damage was covered by insurance and since then, Wesleyan has been busy rebuilding what was lost and improving what was damaged. This includes a new and improved softball dugout, a new fence around the Bauer Baseball Field and a new softball scoreboard.

"The softball facility sustained significant damage to the scoreboard, dugout, storage shed and fencing during the June storm. We currently have new fencing and a new dugout with a storage area and bathrooms. Our new scoreboard will be going up in the next couple of weeks," stated Head Softball Coach, John Brackett. "The teamwork that was displayed that day was just as stunning as the storm itself.  I am truly thankful for all of those that pitched in to help that day, as well as those that have been instrumental in the rebuilding process." Wesleyan was able to show off some of these campus improvements during their Homecoming Weekend on October 12. Students, faculty, staff, alumni and friends of the College came together for a weekend full of festivities, including their first-ever on-campus football game. As final repairs take shape, the College looks forward to the New Year and utilizing these improvements in the spring.