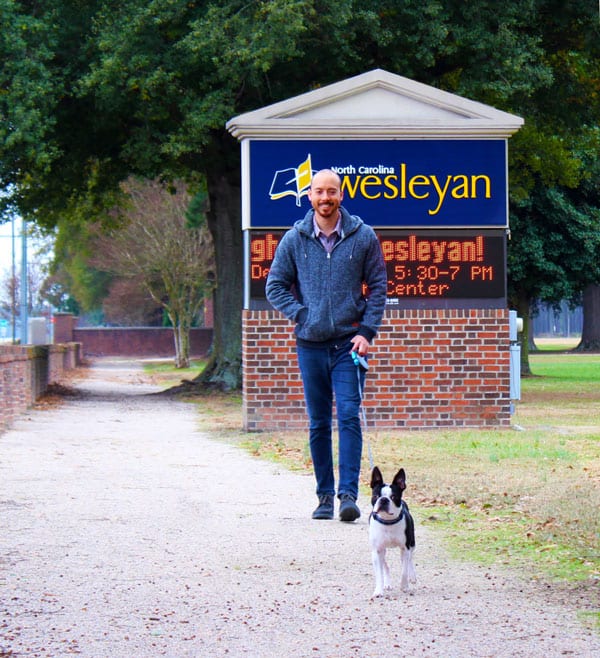 ROCKY MOUNT, NORTH CAROLINA – North Carolina Wesleyan University has announced that it is now a dog-friendly campus. The community is encouraged to bring their dogs for a walk along Wesleyan's two-mile walking trail around the perimeter of campus or complete their full 5K path all while enjoying the campus' beautiful scenery.
Canine family and friends are now allowed on campus for occasional visits, as long as they are accompanied by their owner and stay within designated "dog-friendly" areas, such as the outer walking trail and sidewalks around campus. To maintain the cleanliness of campus and safety of guests, all indoor areas and athletic fields are not classified as dog-friendly locations. The College's new dog policy states they must be on a flea and tick program, remain leashed at all times and have their vaccine ID tag visible or paperwork available if asked by security. It also acknowledges that owners are responsible for any clean up and disposal of their dog's waste. Dog waste stations will start to appear on campus within the coming weeks. These will be placed around the walking trail and in other convenient locations.
"Although Wesleyan has been open to community members walking their dogs on campus, this policy makes it an official endorsement. We love our dogs and what better place to take them for a stroll than Wesleyan's walking trail," acknowledged Interim President Dr. Evan D. Duff.
In order to ensure access for individuals with disabilities, service dogs are permitted on the premises per the Americans with Disabilities Act (ADA) and Section 504 of the Rehabilitation Act of 1973. Service dogs have access to all buildings and facilities on campus, as long as they are behaving appropriately, are house broken and do not pose a threat to the health and safety of others.
NC Wesleyan looks forward to seeing their new canine guests on campus and are "pawsitive" they'll have a dog-gone good time. For more information on the College's dog policy, please visit ncwu.edu/dogsoncampus.