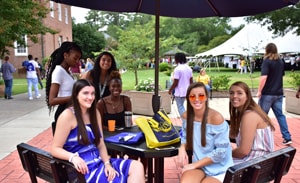 ROCKY MOUNT, NORTH CAROLINA – North Carolina Wesleyan University welcomed 373 new and 734 returning students to campus kicking off the 2019-2020 academic year. The College is pleased to report that retention rates are trending higher than last year by approximately 4% and the College's residence halls are at 94% capacity. Recruitment efforts for this class emphasized local recruitment, a diverse representation, and building upon the College's academic programs.
Local Focus
There has been a concerted effort to recruit local students from area high school and transfer partners. Seventy-one percent of the Class of 2023 comes from North Carolina, which is an increase of 5% over the previous year. Wesleyan admitted 112 students from Nash, Edgecombe, Wilson, Halifax and Franklin counties accounting for nearly 30% of the incoming 2019 student body. According to Paige Price Wells, Assistant Director of Recruiting for Admissions, "It is important that we continue to serve and provide for the educational needs of our community, whether a student is pursuing an undergraduate or graduate education."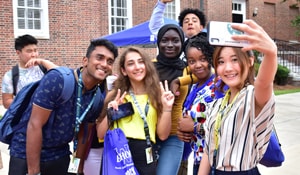 A Diverse Representation
While Wesleyan places a focus on serving local high school graduates, the incoming class also consists of students from 203 schools, 10 states and 20 different countries around the world. Thirty-three new international students now attend North Carolina Wesleyan University spanning the globe from Argentina to Japan.
NC Wesleyan's Director of International Recruitment, Alex Rodriguez, states "Wesleyan hopes to sustain the recruitment success of international students. The College assists international students through scholarships, academic support and cultural activities. Each of these services are tailored to the individualized needs of our international students. Wesleyan provides students with a warm welcome as they arrive to their new home away from home and join our Bishop family."
Academic Gains
This past May, Wesleyan graduated the first cohort of its new Master's in Criminal Justice program. The College hopes to continue building upon those academic gains, with the addition of its second graduate degree in the near future. The Master of Business Administration (MBA) is currently pending approval by NC Wesleyan's accreditor, the Commission on Colleges of the Southern Association of Colleges and Schools (SACSCOC), with classes anticipated to start in January 2020.