For North Carolina Community College Graduates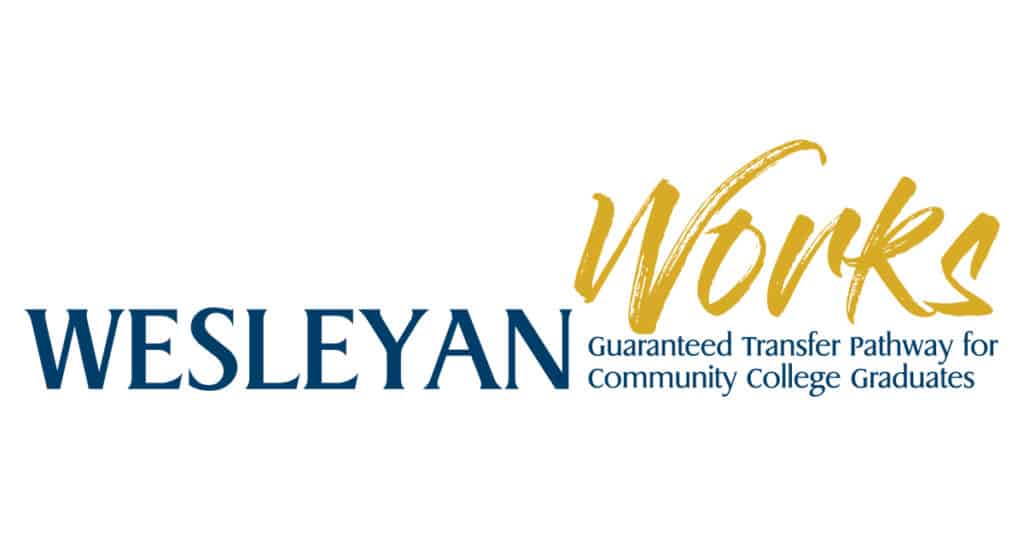 ROCKY MOUNT, NORTH CAROLINA – North Carolina Wesleyan University (NCWC) is pleased to announce a guaranteed transfer pathway for North Carolina community college graduates—Wesleyan Works.
Designed for students who attend community college and want to earn their bachelor's degree, Wesleyan Works is a set of simple guidelines to make their aspiration a seamless transition. The program is open to students who want to attend NCWC's evening/online adult studies program once they have finished their two-year degree.
Community college graduates who earn an Associate of Arts (AA), Associate of Science (AS) or Associate of Applied Science (AAS) degrees are guaranteed automatic acceptance to North Carolina Wesleyan University through the Wesleyan Works program. Other highlights include students are able to apply to NCWC while being enrolled in their local community college, there are no application fees and students are provided with an NCWC Wesleyan Works student identification card, which will grant them access to events at the main Rocky Mount campus. Most importantly, participants will have access to joint academic advising and financial aid counseling to maximize their time and savings while attending both their local community college and NC Wesleyan University.
Students participating in Wesleyan Works must maintain a 2.0 GPA, complete our free application, obtain their AA/AS/AAS degree with a participating community college and submit all official college transcripts.
A full list of program details and participating community colleges can be found at ncwu.edu/wesleyanworks. NC Wesleyan University offers flexible program formats with majors in today's growing industries and locations throughout Eastern North Carolina to make learning more accessible than ever.
In addition to our traditional campus in Rocky Mount with over 30 majors for traditional students, NCWC offers baccalaureate degree options for adult learners at sites in Goldsboro, Raleigh-Durham, and Rocky Mount, and at Brunswick Community College in Brunswick County; Craven Community College in New Bern; Pitt Community College in Greenville; The College of the Albemarle in Manteo; Beaufort County Community College in Washington; Wake Tech Community College in Raleigh and Cape Fear Community College in Wilmington.
North Carolina Wesleyan University is a private, coeducational, liberal arts institution affiliated with The United Methodist Church. Current enrollment is approximately 1,800 traditional and adult students. The College offers bachelor's degrees and pre-professional programs such as law, medicine, pharmacy, optometry and more.