ROCKY MOUNT, NORTH CAROLINA – North Carolina Wesleyan University's Fall Open House is scheduled for Saturday, November 5, 2022 and registration is open. During Open House, students will learn more about scholarships and financial aid, the admissions process, be able to speak with faculty and current students, meet President Evan D. Duff and take a campus tour. In addition, students who attend Fall Open House can enjoy free admission to the University's first Homecoming game to be played on its new turf field. Kickoff is at noon against Huntingdon College.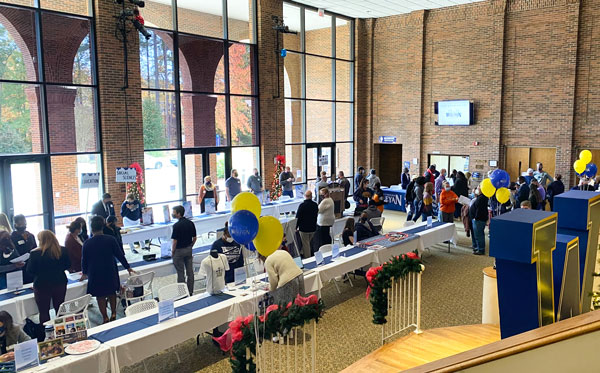 "Open House at NCWU provides prospective students and their families a unique opportunity to experience the community of our University and all that we offer to provide an education that is Personal, Practical and Purpose-Driven," stated Paige Price Wells, Director of Admissions.
This year's Open House will begin at 9:00 a.m. on Saturday, November 5 and check-in will be held at The Dunn Center. Interested students must register before Wednesday, November 2 at ncwu.edu/openhouse or by contacting the Office of Admissions at 252.985.5200.
About North Carolina Wesleyan University
North Carolina Wesleyan University (NCWU) is a small, private Methodist-affiliated institution with a liberal arts-based core curriculum that prepares students for professional advancement, life-long learning and responsible participation in their communities. NCWU offers liberal arts, professional and graduate degree programs for traditional, transfer and working-adult students. The skills cultivated by faculty and built into the curriculum include critical thinking and reflection, communication, collaboration, and information technology. North Carolina Wesleyan University delivers education that is personal, practical and purpose-driven. Personal…through mentoring and the connections that are provided. Practical…by helping students develop lifelong skills. Purpose-driven…by helping them fulfill their purpose in life. With students from all over the United States and more than 40 different countries, the University has immense cultural diversity. To learn more, visit ncwu.edu and follow on Facebook, Twitter, LinkedIn, TikTok and Instagram.